SMOKE&BBQ. Veal brisket bone in with the 3-2-1 method by Enzo Sisto

Enzo Sisto 25 februari 2022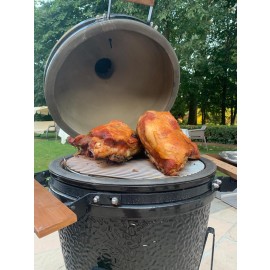 Haarlem, The Netherlands February 25th 2022
The strength and versatility of the largest Dutch group FaceBook of BBQ enthusiasts, over 53'000, whose concentration is 0.3% of the population combined with a production of meat with a strong regional connotation grazing in the polders of the Netherlands have given life to this brand. Holland is famous for tulips, bicycles, windmills, Rembrandt, Van Gogh, ... But the BBQ and Dutch nature products are also excellent.
For this reason, with our FB Smoke & BBQ Group we have selected a frozen fixed weight assortment in IQF Hyperfrozen® "no waste", which ranges from meat to fish to organic bread. And also "ready to eat" vegetables cooked at low temperatures to preserve their fragrance and vitamins. Products ready for the BBQ, but also suitable for the pot or oven. Easy, affordable, tasty and without any preservatives.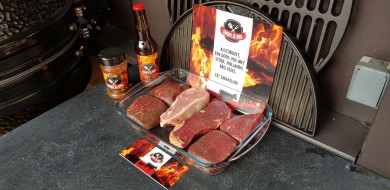 EUROPEAN PREMIERE We will present it at Marca Bologna HALL 25 corridor B stand number 22.
One of the products we are most proud of is our entire veal brisket bone in. A delicacy that has no equal in the world of low and slow for taste, tenderness, juiciness, succulence, versatility and applications. In the following recipe an easy method to obtain the best result every time in an efficient and safe way. Seeing is believing.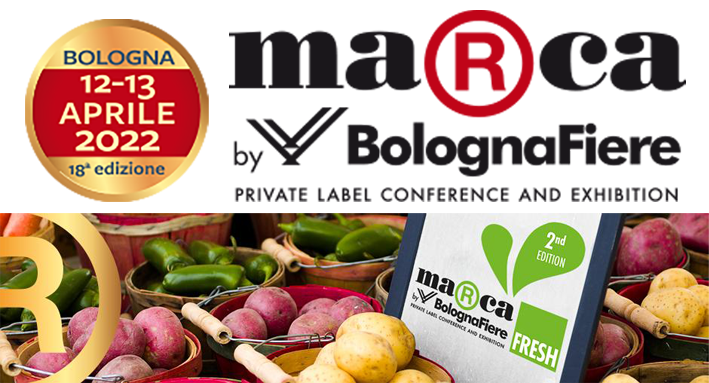 Recipe: Veal brisket bone in with the 3-2-1 method.
The most suitable herbs for veal are Mediterranean herbs such as thyme, sage, rosemary and oregano. I prefer finely chopped oregano and rosemary.
Barbecue: 115 to 120 °C
Core temperature: N/A
Prep time: 30'
Kook Time: 240' (6 hours)
Number of people: 8-10
Requirements: kamado, pan, aluminum foil,...
Ingredients
Veal breast with bone of about 5 kg. If your butcher doesn't have this kind of cut, ask your butcher to find it for you.
30 cl beer, white wine or beef stock per 5 kilos, so 5 to 6% of the total weight
Rub per kilo of meat
12 g salt
2.5 gr black pepper
6 gr rosemary
4 g oregano
2.5 gr paprika powder
Preparation
Step 1
Rub the brisket with the rub and place it in the barbecue at 115 to 120°C for 3 hours. Close the lid, also known as the 'dome', during each of the three cooking phases. In this recipe it is important to have a low and constant heat.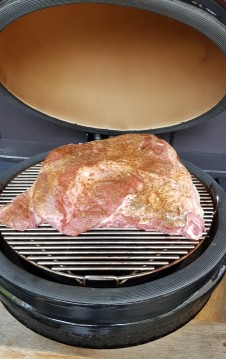 Step 2
Remove the meat from the barbecue and wrap in aluminum foil or butcher's wrap pouring it with the beer, wine or beef stock. Alcohol strengthens the structure of the gelatin and broth has a neutral effect. Close the seams well so you don't lose any moisture. Place it in the grill for another 2 hours at the same temperature. Use a pan as support it and prevent loosing of liquids into the BBQ. The gelatin that now forms starts to melt at around 25°C and is completely melted at 45°C. After processing, the gelatin melts perfectly in the mouth to release all the aromas. So make sure nothing gets lost! Collect the gelatin to use later as a sauce or in gelatin slices with, for example, fresh parsley. Injecting is also an option, see the tip below.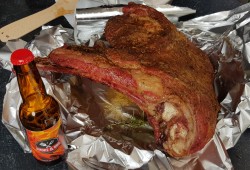 If you want a higher melting point, use 5% agar agar. Then you can use the liquid to process trimmings together with cooked vegetables. Incidentally, not all vegetables are suitable for this: asparagus, and also fruit such as papaya or kiwi, inhibit the formation of gelatin.
Step 3
Place the brisket open and exposed in the barbecue for the last hour to dry a little and form the crust. If you want more crust, you can leave it for another 20/30 minutes. Finally, let the brisket rest for 15 to 20 minutes and serve with the gelatin.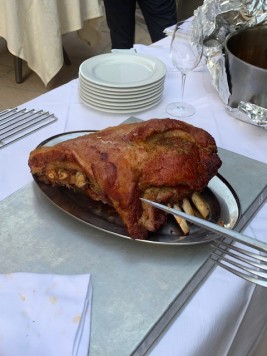 Injection Tip
Have your butcher cut a veal thigh into slices and make a very thin stock without salt. Add one part milk or cream to two parts stock if the temperature has dropped below 40 °C after cooking. The milk enhances the delicate flavor of the veal. Inject a small tablespoon of the stock into points of the veal breast in a grid with 3 to 4 inches between points. Injecting liquids into meat during low and slow processes promotes both tenderness and the formation of gelatin. Have a look how great it is in the video (6 ").
My Enzo's way
One of the combinations I love is to use the veal brisket in the "vitello tonnato" version with a slice of fresh cold smoked tuna, the "ancient way" tuna sauce and a couple of asparagus to garnish. Enjoy and see you in Bologna.
Contact: sales@bestmeat4you.com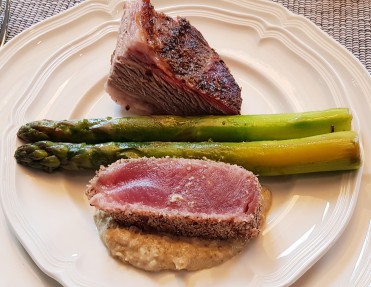 Friendly regards, Enzo
Gerelateerde blogs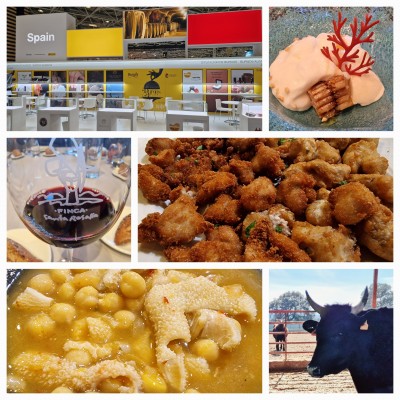 Enzo Sisto 19 februari 2023
My journey in search of delicacies and excellences: Churro lambs by Hermanos Masa and Black Beef crossbreed Japanese-Iberian wagyu by La Finca Santa Rosalia. I promise myself to visit those two enterprises after talking about in October at SIAL Paris and January at SIRHA Lyon to Jose Ramon Masa and Patxi Garmendia.
I couldn't be luckier than make this trip with a little group of fellow happy meat enthusiasts who support me during the exploring adventure: Fabio, Marco, Massimo and Roberto. Thanks you all.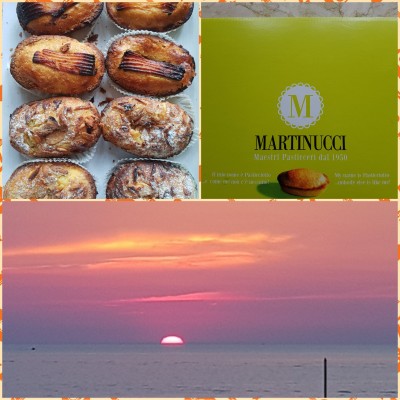 You can't visit Salento without tasting a pasticciotto van Martinucci. This tasty cake based on cream, almonds, lemon is pure poetry. We have got it in Gallipoli.
Enzo Sisto 19 november 2019
A new logo that highlights how much FOODSTAGE has achieved in recent years: getting closer to nature and natural production.