PLMA - Amsterdam May 23 & 24th 2023 "World of Private Label"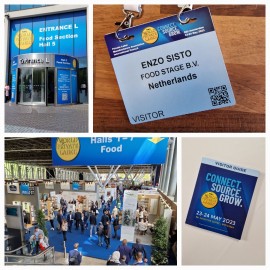 May 23 & 24th 2023 . Will we discover the new trends in these two days?
The "World of Private Label" international trade show opens again in Amsterdam, The Netherlands.
From 72 countries more than 2650 exhibitors' stand displays product and ideas and they are ready for business and visitors from more than 120 countries entering the RAI, Amsterdam Exhibition Centre, in those days.
However, I have a doubt about how manufacturers can be visible and interesting for the private label buyers they need.
In only 2 days more 2650 exhibitors. Almost a mission impossible to see everything.
So on the one hand it is important to communicate before and during the fair to your user/customer group, on the other the buyers must have clear ideas on what the mission to accomplish is. I hope everyone has had a good ROI on their investment at this PLMA. Exhibitors and visitors.
Little time to visit producers outside your own sector... However, one of the often most useful sources of inspiration is knowledge of what is happening in other fields and which may become relevant to one's own.

For this reason, during these few hours that I will give myself to PLMA - ( invited by Corte Parma, a great Italian company specialized in proposing excellent Italian cured meats and cheeses in a modern, witty, welcoming, original way to fascinate and conquer various types of consumption ) - I will only try to spot trends, exhibitors and products outside my sector.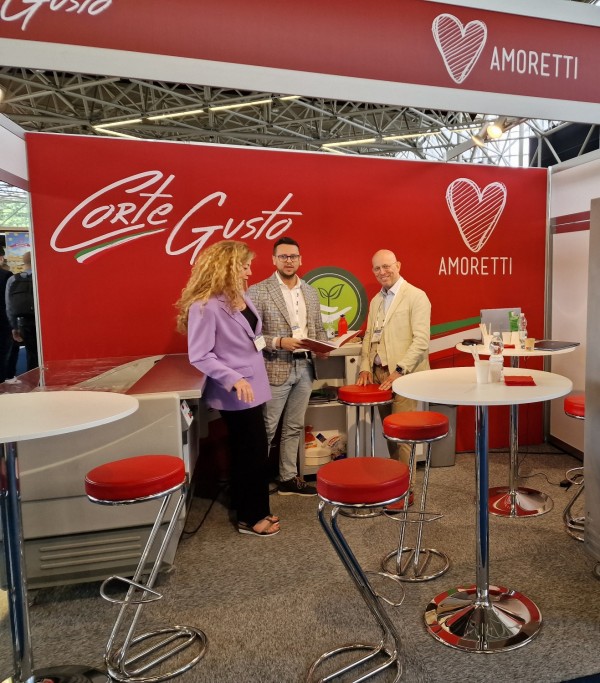 It is nice to know that PLMA's annual "World of Private Label" is organized in Amsterdam by the Private Label Manufacturers Association, which represents more than 4,000 member manufacturers worldwide.
In Italy the Private Label "Marca Bologna" trade fair is also an increasingly important event which connect every January all companies, that have something to tell or need visibility, to the retailers.
The growing popularity of private label in recent years has led to market share never seen before around the world, allowing private label to maintain its strong position in most markets even during the pandemic. Private label now accounts for more than 40% of all products sold in seven European countries and more than 30% in nine other countries in Europe.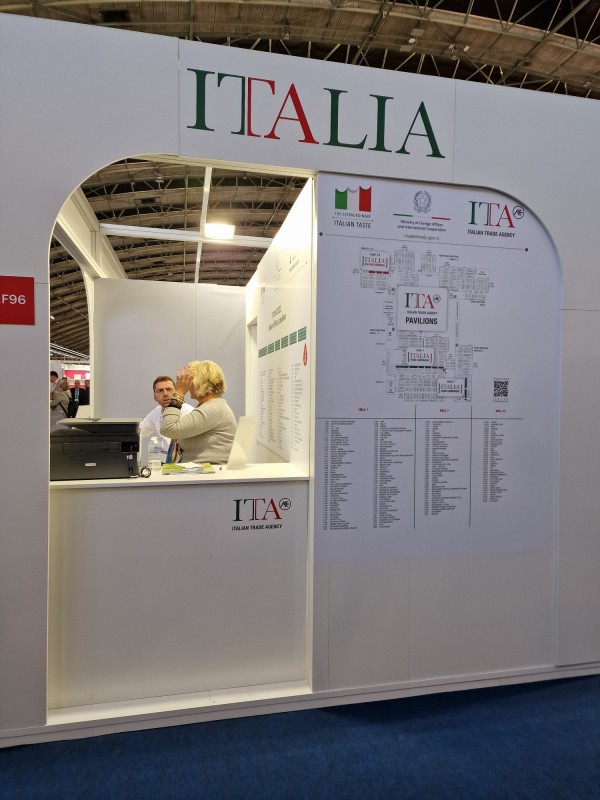 Italy in general and Piemonte in particular are really present.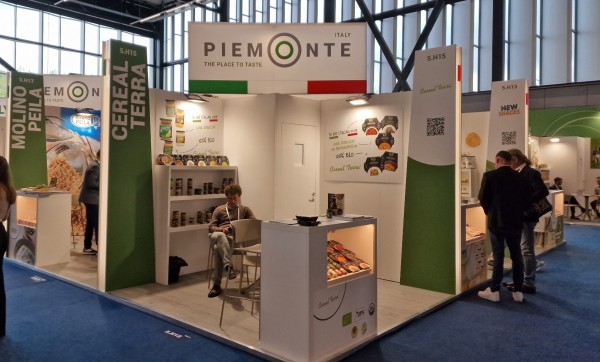 Ok, let's take a look at what happens in other fields of food and non-food.
First of all PLMA organises some meetings on line. This Online 'Lunch and Learn' is designed for private label manufacturers, retailers and wholesalers, who want to expand their knowledge of the private label business. PLMA organises several sessions a year, each focussing on different topics. The next one The Neuroscience of Packaging Redesigns: every packaging needs a fresh design sooner or later. And preferably a design that still feels familiar. How can you create something that is 90% different, but still 100% your brand? Very interesting!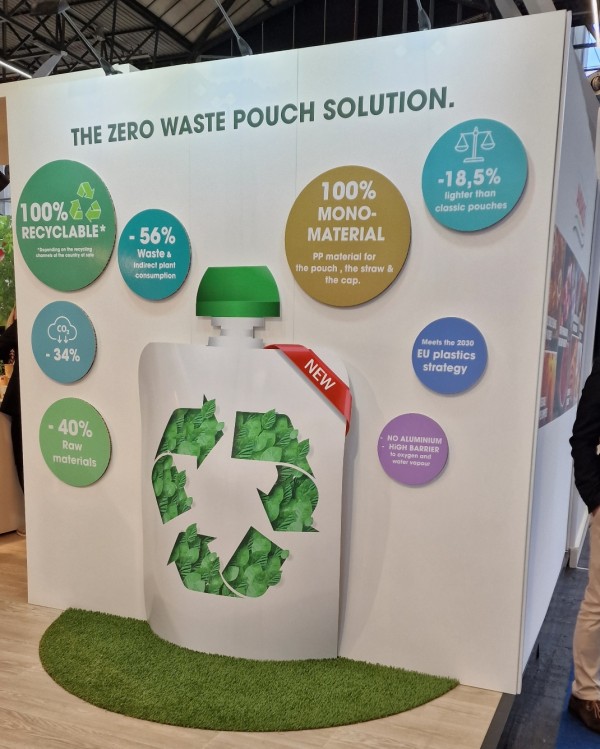 PRETENTIOUS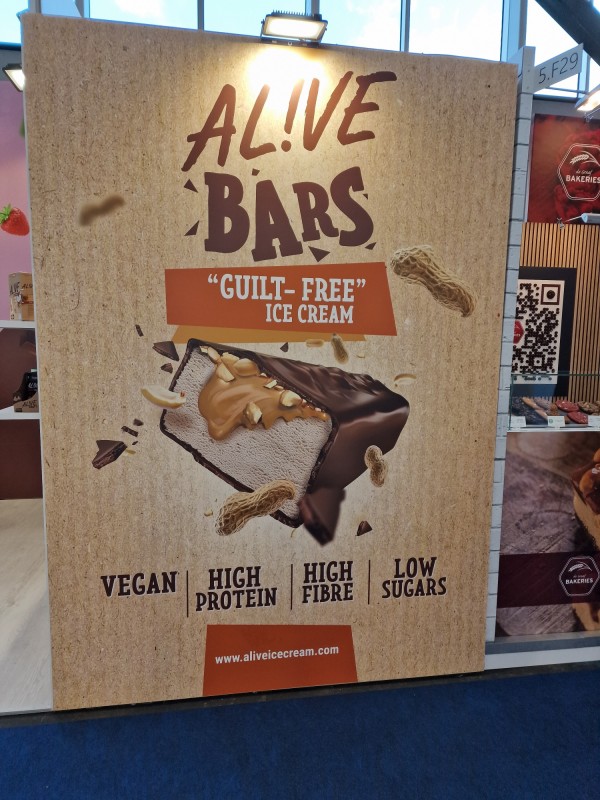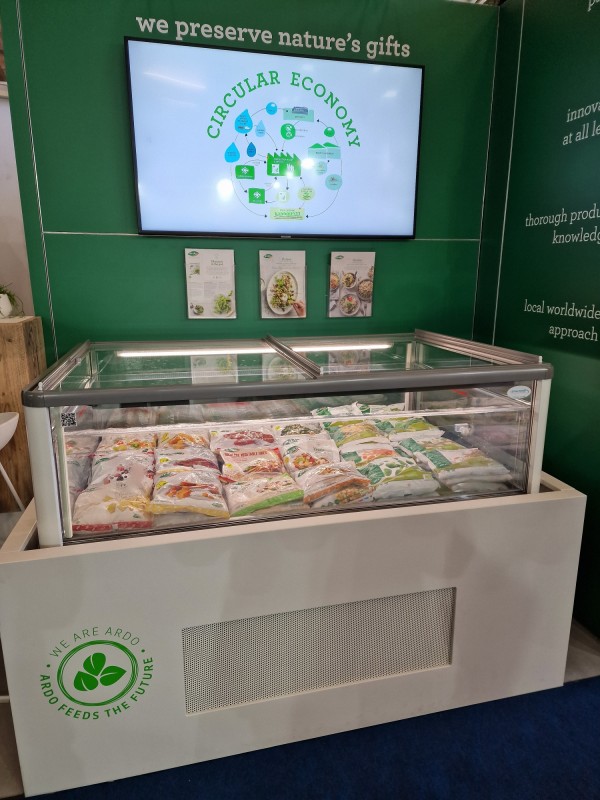 This is the tone at PLMA.
Everyone claims to save your health and the planet, everyone has the most recyclable packaging of all, everyone has the best recipe to make your brand a success, everyone is sustainable and circular and no waste... every single one.
Let's just say: if all these claims were real, it would be too good to be true.
So... for example I have read some of these branded labels of packaged and processed foods with redundant labels. Unfortunately many have functional and non-functional additives that are not absolutely necessary in the products. A tension between what you want to let us believe and the reality of industrial production.
I remain of the opinion that it is better to buy fresh raw material and spend a little more time at home to prepare your own snacks, food, ...
Sometimes it's not possible. I understand. But let's continue to read the labels of the ingredients.

This German company whose salesman explains to me that it makes pasta salads better than your grandmother, who was born in Naples.... what do you think about it?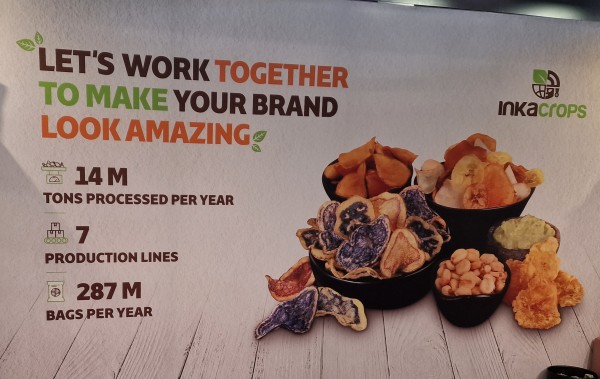 Or those that help make your brand looks "amazing". I do prefer "better": not only aesthetically but also in the product contained.
FREE TIME?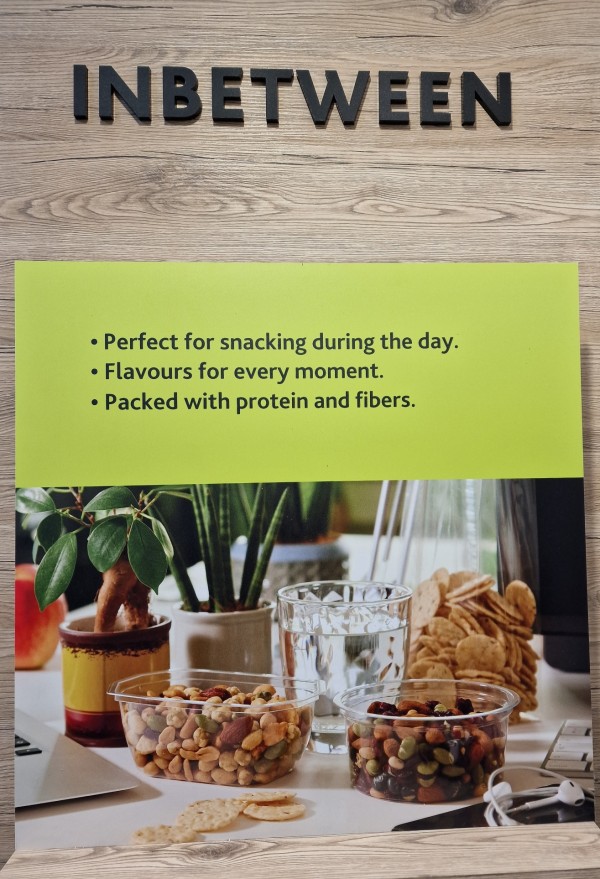 Another way to use your free time. Instead of meeting or chatting with other humans or walking with your pet, reading a book or newspaper, listening to music or playing sports: "eat a snack". They explain it to us in a stand that "they really cares about your health". In every shape, combination, size, colour, ingredient, additives, preservatives and various colourings.
YOUR BEST FUTURE CUSTOMER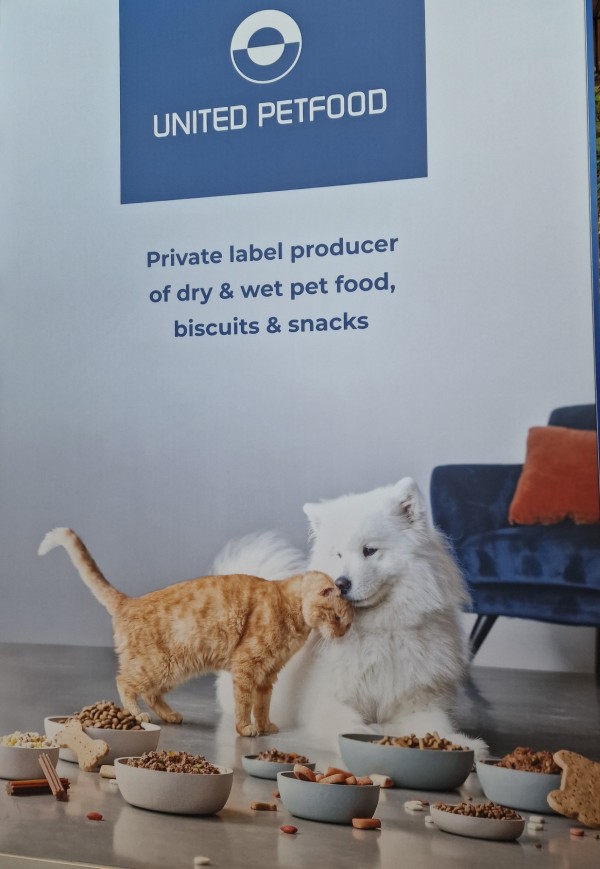 Well yes here is the new trend. From SNACKIES snacks and pet foods without additives, preservatives, flavor enhancers, flavor encheances, ...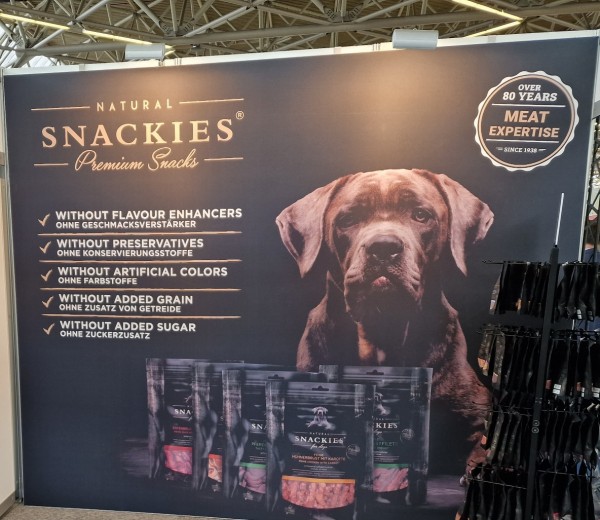 Human quality for your pet.
In a Chinese stand I read: "for dogs and cats over 17 years old" . A slip of mine. They meant that their establishment had been running for 17 years… ha ha ha.

But the idea makes its way: pet food for young animals, pet food for cats in love, pet food for elderly animals rich in vitamin D, gourmet perfood with veal, veal liver morsels for your cat, ...
Maybe if they are made with humans standards you will eat them yourself if you have an empty fridge.
Here is the trend: "Produce pet food as if it were a clean label for humans".
See the Noble stand: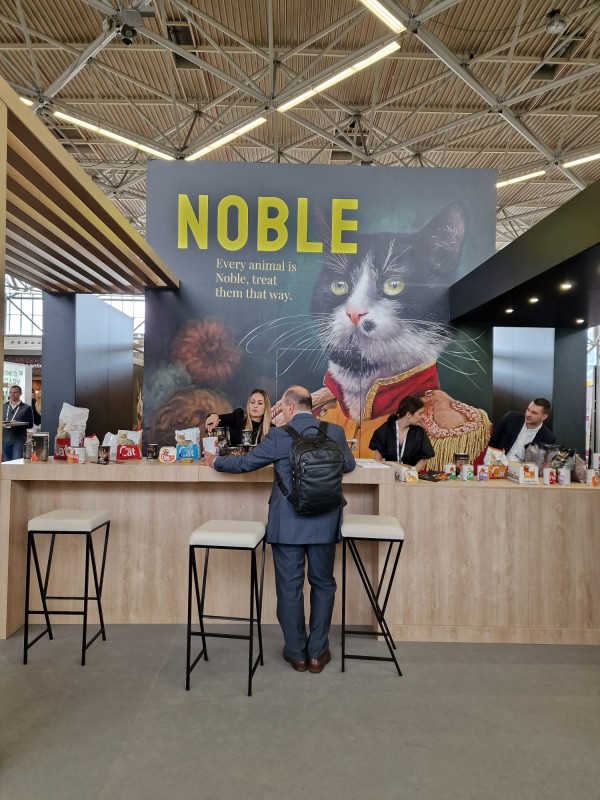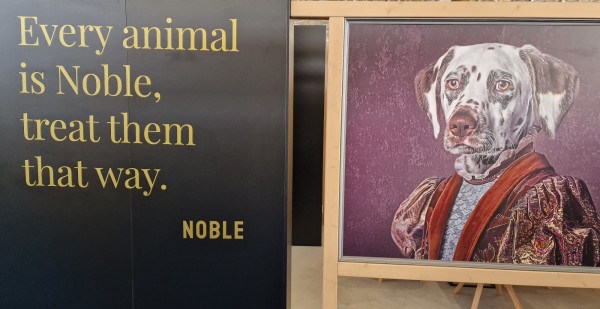 Today the pet often replaces that affective note, that human warmth that both the digital and evolutionary revolutions have reduced us.
A German gentleman Stefan Berkes of Snackies stated that in Germany the consumer who has a pet often spends more on pet food than on himself.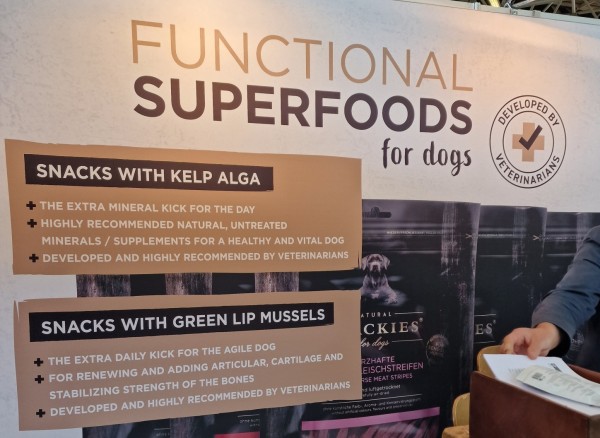 And here the assortment of him has lamb, horse, beef, duck, chicken, rabbit, buffalo, goat, salmon, ...
After the trade show I will definitely call him to start a gourmet line with veal together.
I will keep you informed.
MEAT
Only 3 stands seen of meat producers. I don't name names.
They were present - explaining them to me - because they had "plant-based meat substitute products" to present. A lot of confusion because on the same stand you have two products at war with each other.
A piece of news given by the newspaper "Parool" this week sounds: "Many restaurants and vegan bars are closing in Amsterdam." An omen?
I feel sorry for these entrepreneurs. I hope they manage to redefine their business and their mission.
But is meat difficult to brand or are we not capable of doing it? The fact that in the PLMA meat is completely absent is a cause for serious reflection. We communicate on provenance, animal welfare, circularity, sustainability, tenderness, animal breed, ... etc. etc. This almost never translates into brands available to the consumer as opposed to what happens in other sectors.
Well I hope I have given you some ideas.
If you have any questions or want to talk to me about what I'm saying, don't hesitate to call or write to me.
Friendly regards, Enzo
Gerelateerde blogs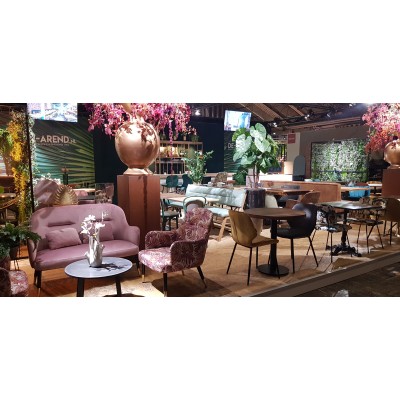 Enzo Sisto 16 januari 2020
WOW...a gourmet restaurant should be jealous about our MENU on the stand during the HORECAVA! Enjoy this first short film impression.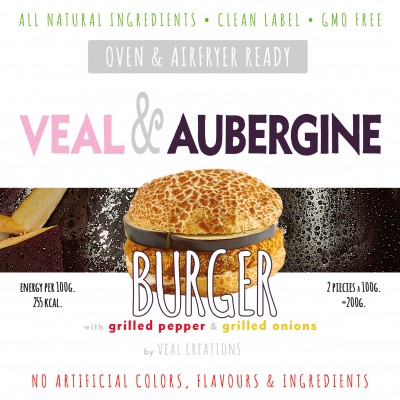 Enzo Sisto 23 december 2019
Breaking news from VEAL CREATIONS, partner on Horecava Food Stage. Best Product of the Year was first organized in the Netherlands in 2014 and has expanded ever since.