Saltimbocca alla Romana

Enzo Sisto 11 november 2021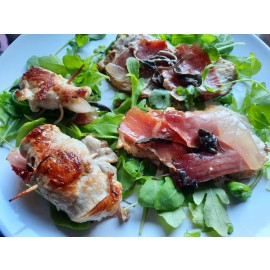 Saltimbocca alla Romana
Saltimbocca alla Romana are slices of veal lightly floured and cooked with raw ham and sage.
The literal translation of saltimbocca is "jump in the mouth", and that's precisely what this tasty combination of veal, prosciutto, sage and white wine will do. It's a very tasty dish that belongs to Roman cuisine and which is also one of the most famous traditional Italian recipes in the world.
This recipe is so quick to prepare that it comes in handy as an emergency solution to a family dinner (it's ready in just 15 minutes).
Which side dish to serve with Saltimbocca alla Romana? The answer is very simple: with whatever you prefer! It is perfect for fresh salads, but also with vegetables or simply potatoes.
Ingredients for 4 people:
– 4 slices of veal
– 4 thin slices of Prosciutto Crudo
– 4 sage leaves
– 1 glass of white wine
– 50 gr of butter
– 50 gr of 00 flour
– 20 gr Extra Virgin Olive Oil
– 20 gr of water
– black pepper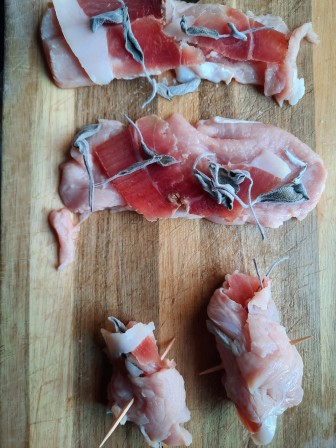 Preparation:
1) Start by cleaning the meat from any nerves and fat. Place it on a cutting board and thin it using a meat mallet.
2) Place a slice of raw ham and a sage leaf on each slice of meat, then stop it all with a toothpick.
3) In a non-stick pan, melt 40 grams of butter in extra virgin olive oil over medium heat. Meanwhile, flour the slices of meat only on the side where there are no ham and sage.
4) When the oil and butter are hot, place the slices of meat on the side in which they are floured in the pan. Raise the heat, add a pinch of pepper and continue cooking.
5) When the meat is golden brown on the underside, Add the white wine. When the alcohol has evaporated, cover with a lid and cook for another minute. At this point, remove the meat from the pan and store it in a warm place.
6) In the pan with the cooking juices, add the remaining butter and water, continuing to cook until a fairly thick cream is formed. Spread the cream on serving plates, place the slices of meat on top and serve the Saltimbocca alla Romana!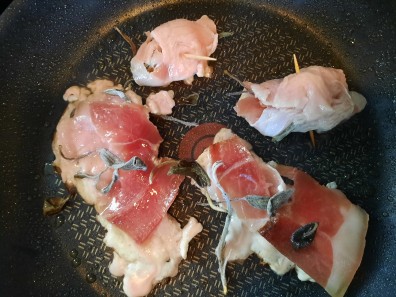 We advise you not to salt the Saltimbocca alla Romana because the presence of Prosciutto Crudo makes the dish already salty.
Sometimes saltimbocca comes rolled up.
What is the best meat to use?
Definitely use veal cutlets, of course you are going to have to pound them first. This not only tenderizes the meat but also creates an even thickness that will help cook the meat evenly.
Origins
Saltimbocca alla romana is a dish typical of the Lazio region, in which the city of Rome is located. The regional origins of saltimbocca however are unclear; many food experts refer to the city of Brescia as the true place in which the dish originated, stating that it was only 'adopted' by the Romans into their culinary culture as early as in the 1800s. Wherever it may have originated, saltimbocca is widely diffused in all regions of Italy.
My name is Gaia, I'm Italian and have been living in the Netherlands for more than 20 years.
From now on, together with Enzo Sisto, I will take care of the Blog with great pleasure.
I chose this recipe because it belongs to the culinary tradition of my city and represents my philosophy in the kitchen: simply and tasty dish, easy and quick to prepare.
Gerelateerde blogs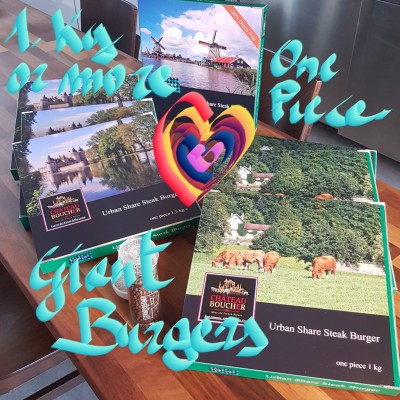 Enzo Sisto 23 september 2018
Veal Creations & Foodstage "The most innovative stand" on SIAL Paris 2018 with 5 nominations for the SIAL Innovation Awards 2018 – veal and beef.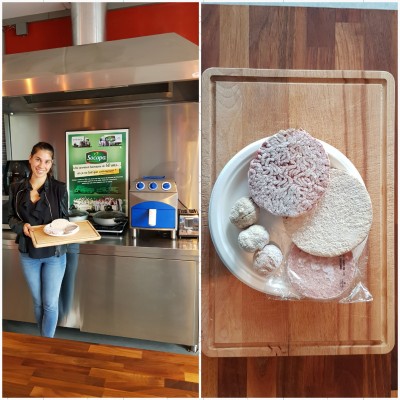 Enzo Sisto 4 augustus 2017
By Laura I'm Laura, an italian student who's having a stage by the Office of COFOS BV.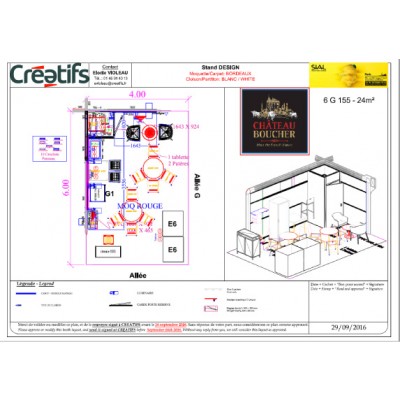 Enzo Sisto 13 oktober 2016
The SIAL in Paris is surely one of the most elegant and glamour between the majors food fair in west Europe and will take place between october 16th and 20th.