Milan, Tutto Food 2023 first day: news and impressions.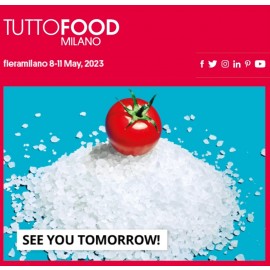 "You need to know the past to understand the present and guide the future". Cit. Thucydides 431-404 BC
That's why we begin this Tutto Food 2023 report, with a legacy of CIBUS 2023.
I would like to point out the two awards achieved by Fiorani SpA during the CIBUS. A jury of 101 buyers and sector operators conferred the Tespi Award for the best new media campaign with testimonial Tamara Lunger and for the Best Packaging of the self-service product with the Skin cardboard.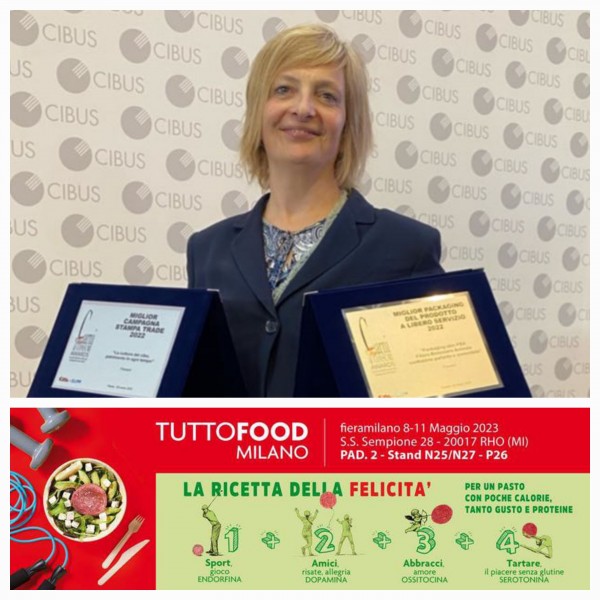 In the photo: Valeria Fiorani.

The approach between nutrition and human hormone production is also interesting. In fact, some foods increase the production of hormones that help us feel better. Let us have a look about serotonin (point 4) in the recipe for happiness of Valeria.
Tryptophan is a precursor of serotonin, the good mood hormone, and melatonin, the sleep hormone, and is therefore responsible for our psychic and emotional balance.
In fact, in addition to stabilizing mood, it regulates sleep-wake and can help fight obesity by helping to inhibit the feeling of hunger. It also helps improve the sports performance of athletes.
Tryptophan is an essential amino acid (our body is not able to produce it by itself) therefore it must be introduced through the diet and food supplements.
It is contained, among other foods rich in proteins such as legumes, also in white meats such as veal or red meats such as beef. Noble proteins, rich in essential amino acids, are preferable to low biological value proteins.
These foods included in a balanced probiotic and prebiotic diet give better results.
Precursor means that it is an indispensable element in the initial stage of a process or reaction, which evolves and subsequently transforms into another substance.
In detail, our body is able to produce serotonin (hormone and neurotransmitter) by modifying the chemical structure of tryptophan. This happens through two reactions:
 Hydroxylation (addition of -OH).
 Decarboxylation (removal of COOH).
Catalysts and elements necessary for these reactions are magnesium and vitamin B6.
In a future article we will see more how, which, when and why. Now let us go back to the TuttoFood!
Interesting note of color in the stands. Green in all its tones and wooden fittings predominate. The stands of the producers of mozzarella, burrata, stracciatella, ... are massively present. Strictly white: "noblesse oblige". These very fresh and unseasoned dairy products are now the masters not only in Italy, but also abroad. For example, in Holland there are few restaurants that do not have fresh burrata among the appetizers and equally few pizzerias that do not have the "margherita" in the buffalo version.
Many international presences not only among the exhibitors but also among the buyers present. The Tutto Food of Milan is confirmed as an international meeting of excellent food.
The confirmations: veal always in fashion.
Topchef Cees Goettsch show proud the Sfizioso wall in the second photo.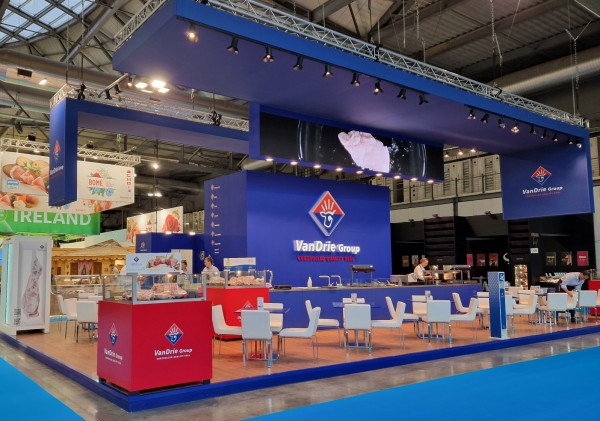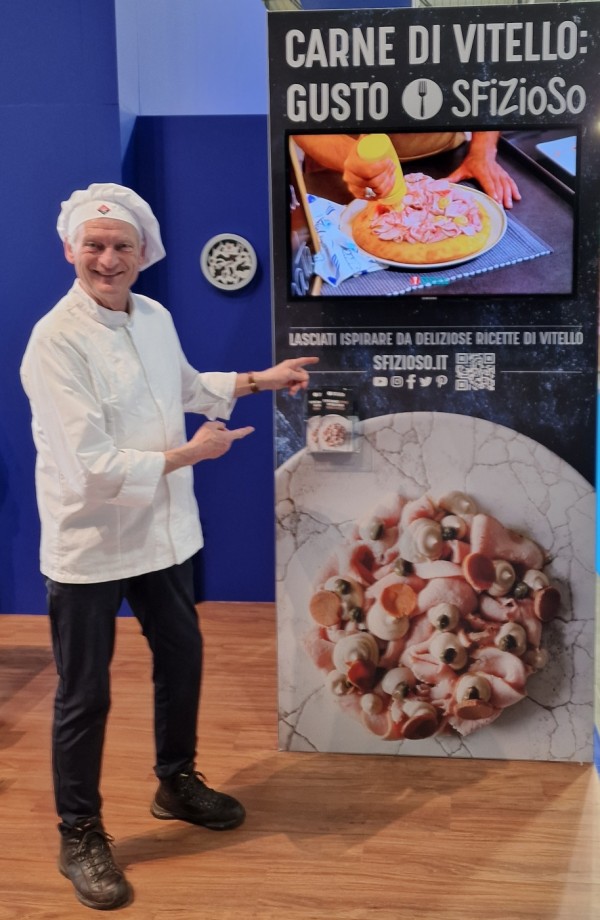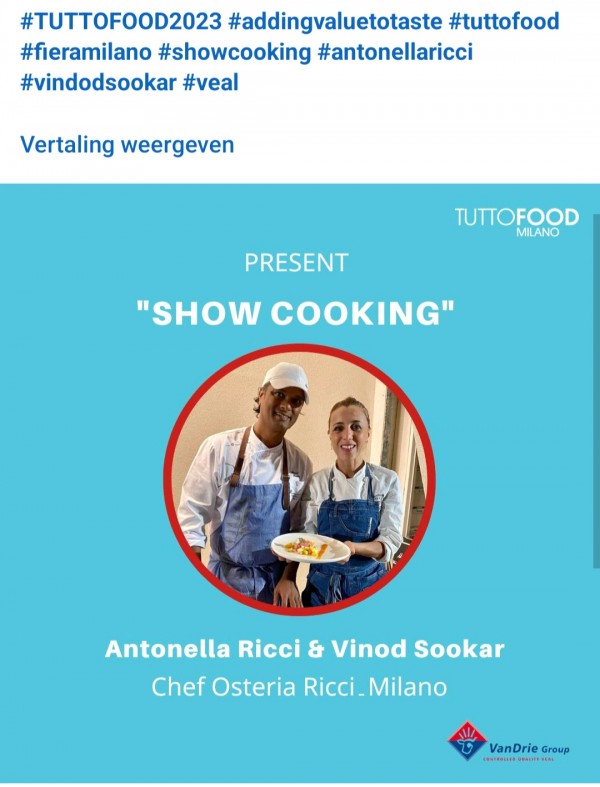 In the classic Van Drie stands you can taste the excellent Dutch veal. A delicacy also honored this year by an exceptional show: the two starred chefs Antonella Ricci and Vinod Sookar of Fornello da Ricci perform the first two afternoons at the Van Drie stand. They also open a new restaurant "Osteria Ricci" in Milan. I enclose the address of the stand.

CASA VERCELLI
Italian veal and imagination in accompanying the consumer towards a "ready to eat" or "ready to cook" gastronomy can be found on the Vercelli SpA stand in Formigliana.
Here too a nice show interlude made by "The bear in the kitchen" alias Alex Li Calzi, a nice Sicilian specialist in "comfort food" with a considerable following on social media.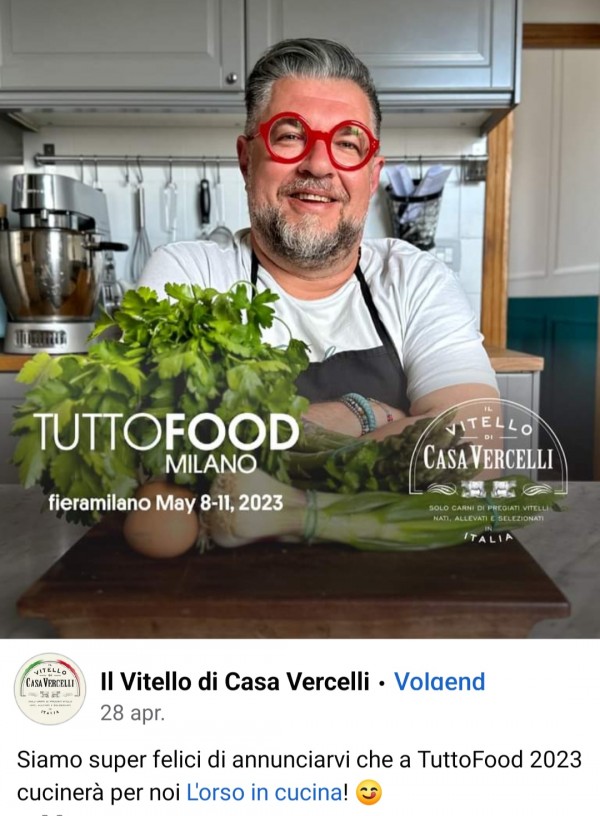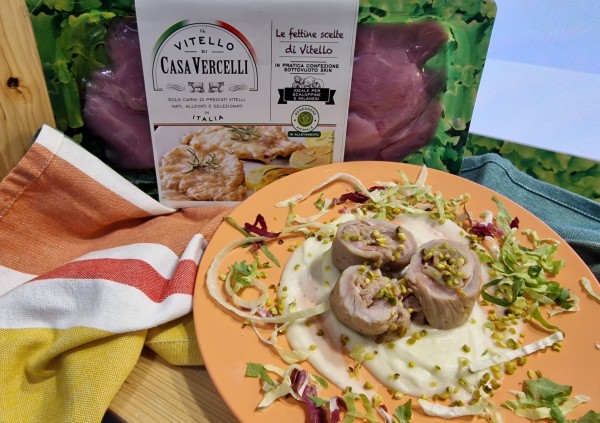 And the stand Casa Vercelli just before the opening of the fair with Gianluca Vercelli himself in the photo: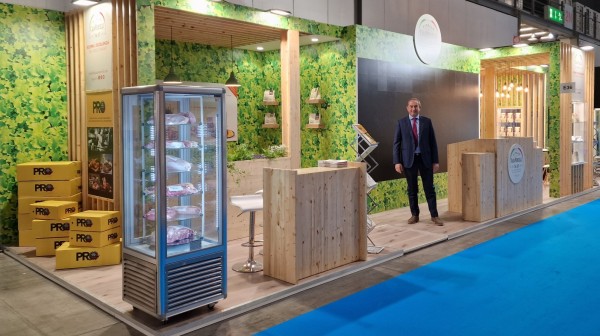 The news.
Stagionello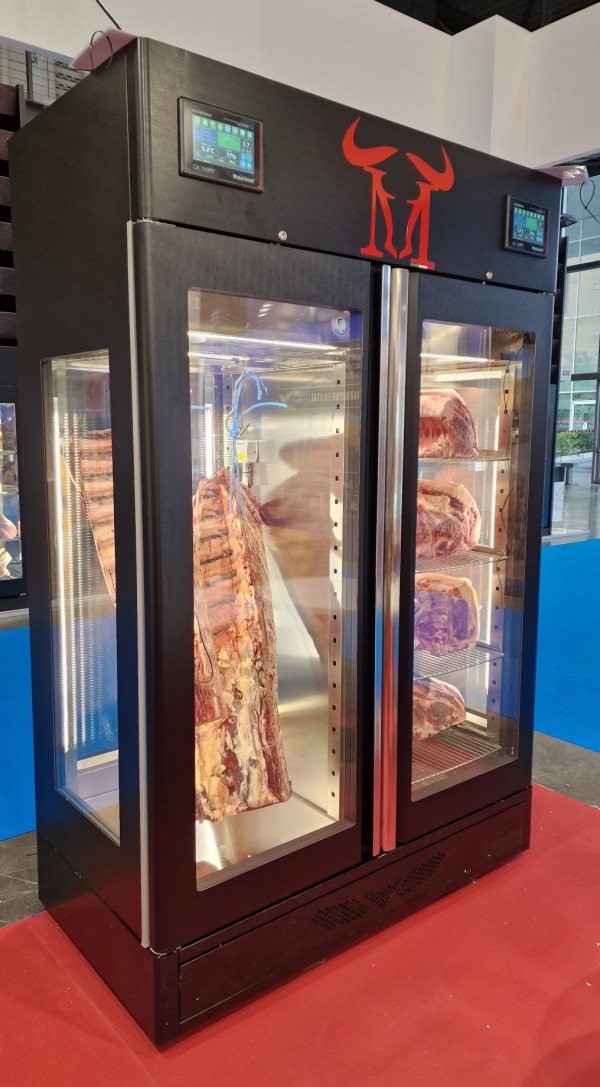 Stagionello
According to Antonio Cuomo, nephew of the inventor of the system, it is a refrigerated cabinet with controlled temperature, ventilation, PH and humidity which, thanks to a real-time analysis of some values and to the control combined with an algorithm, reduces (or cancels) the possibility that food (meat) deteriorates.
Exactly as stated on their website: "Meats matured with the Cuomo Method® guarantee tender and succulent steaks, which are above all "safe", because they have not developed pathogenic molds during the treatment process. This is possible thanks to the fact that the device, which implements the method, is a controlled device, i.e. capable of monitoring and varying the climatic parameters (temperature; humidity) of the housing in which the different cuts of meat are positioned, as their pH varies. A similar controlled process prevents the proliferation of pathogenic bacteria in the form of moulds, which would affect the quality of the product during treatment up to putrefaction and therefore guarantee safe and legal maturation."
Interesting and to be explored.
SOCOPA VIANDES member of the Bigard Group: the smash burger!
Although already presented at Sirha Lyon, this SOCOPA product has not yet been seen in Italy.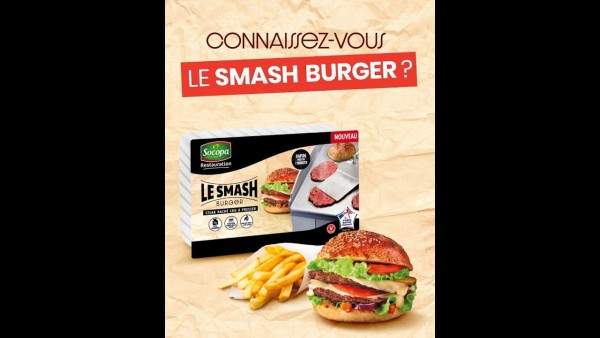 "SOCOPA renews itself every year to give its customers an "appeal" that intrigues the consumer. Socopa Restauration offers you the SMASHBURGER, the fresh minced steak to be crushed, an overseas trend that will renew your hamburger offer. Crushed on a hot pan or fry top, this minced steak reveals all its particularities: a crunchy caramelized crust with a soft heart! The fineness and weight of the steak make it easy to make 2 or 3 layer burgers, with a low portion cost and a good grilled taste! The tray is practical and easy to use, consisting of 18 burgers of 50 g, 100% meat, without additives, preservatives, dyes or additives with an ideal content of 20% fat."
To find out more, read all the interesting article published in the May magazine Eurocarni.
https://pubblicitaitalia.com/it/carne/prodotti/eurocarni/2023/5/21541
Fashion, design and nutrition.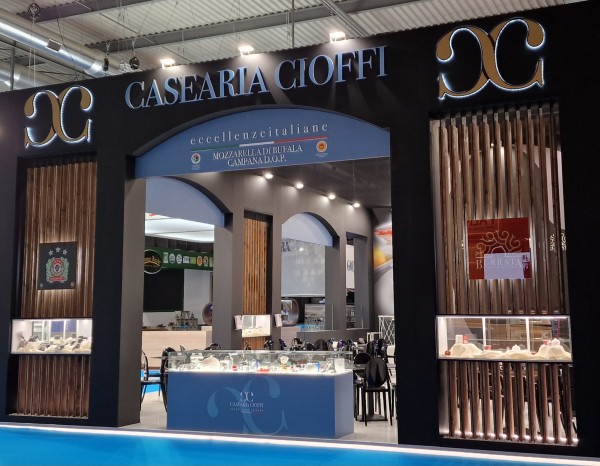 Elegance and design are always one of the Italian strengths. In this case it is interesting to see how some pavilions of the dairy sector are not only large but also very elegant. As if to confirm the union between fashion, design and nutrition.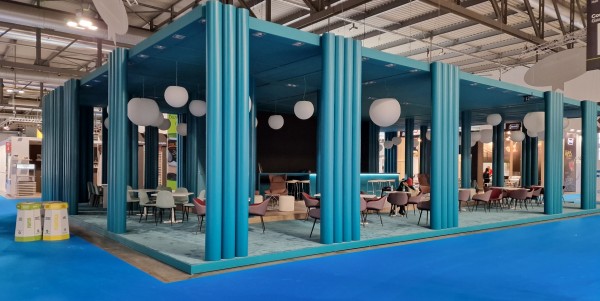 There is no shortage of color notes in white. Excuse the pun.
.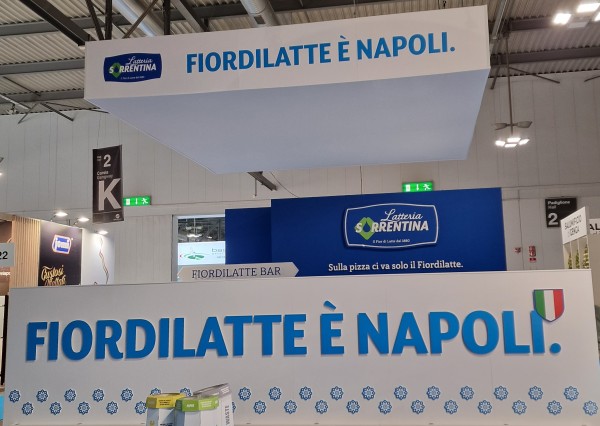 From the America Egg Board (United States), dehydrated and pasteurized eggs in consumer packaging for both sportsmen and gourmets at hall 2.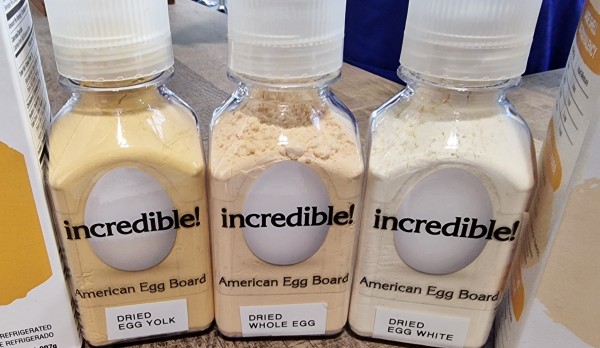 And finally, finally the Finocchiona IGP consortium that I have been following on LinkedIn for some time. When I started there were 37 of us (followers). Today we are 67 . I hope this Tuscan excellence has more following because it deserves it. Visit it at hall 4!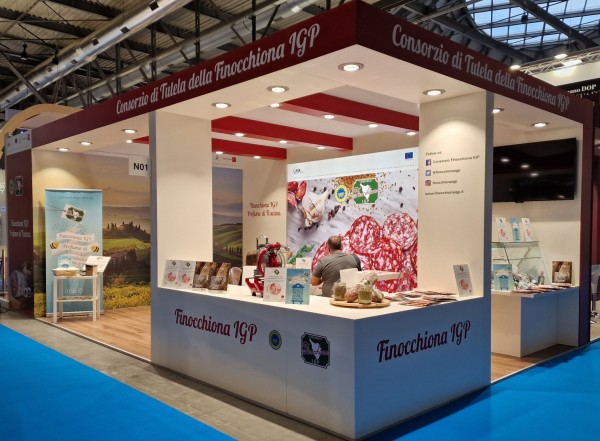 Happy to have confirmation that those who try to redefine beef with laboratory alchemy are becoming less and less and with smaller stands...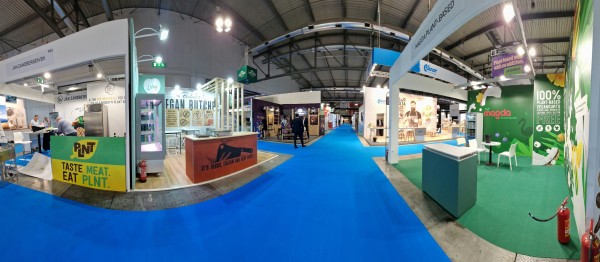 Typical focaccia from Bari - a delight - without lard fat? San Nicó proposes the original one.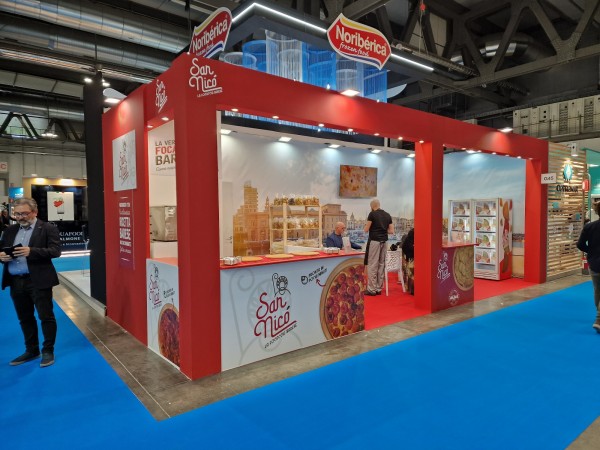 Outside the Tutto Food also some interesting news: Sfizioso goes happy!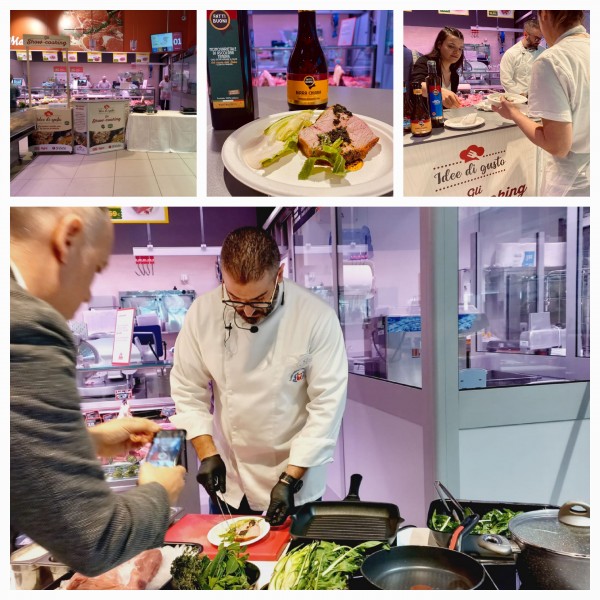 Tutto Food is not the only place where interesting things and show cooking happen. Here is a nice collaboration between the blog Sfiziozo (www.sfizioso.it) and Magazzini Gabrielli.
We are at the Tigre in L'Aquila at the first show cooking "Idee di Gusto" in the company of chef Yuri Talji.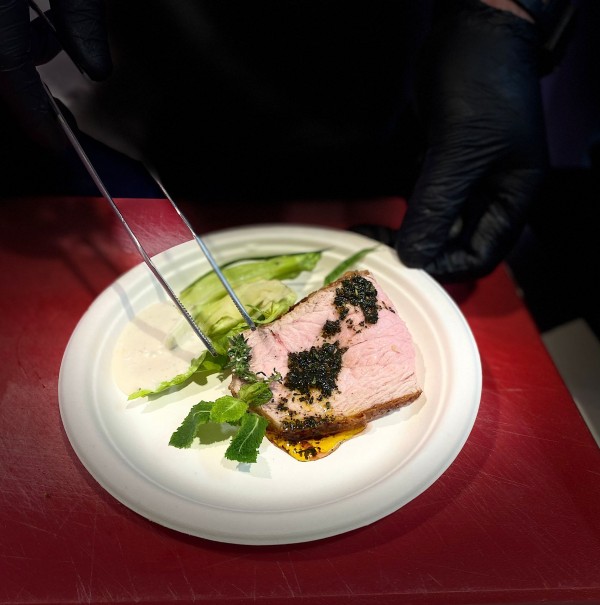 Ready to discover all his secrets for cooking veal? The recipes can be found on the Sfizioso blog or on the social pages of Oasi and Tigre. We point out this initiative because Magazzini Gabrielli broadcast the cooking show live on the screens of the entire network of shops, allowing all consumers to participate in the events live also in other cities as well. A modern way of promoting high quality products, in this case veal.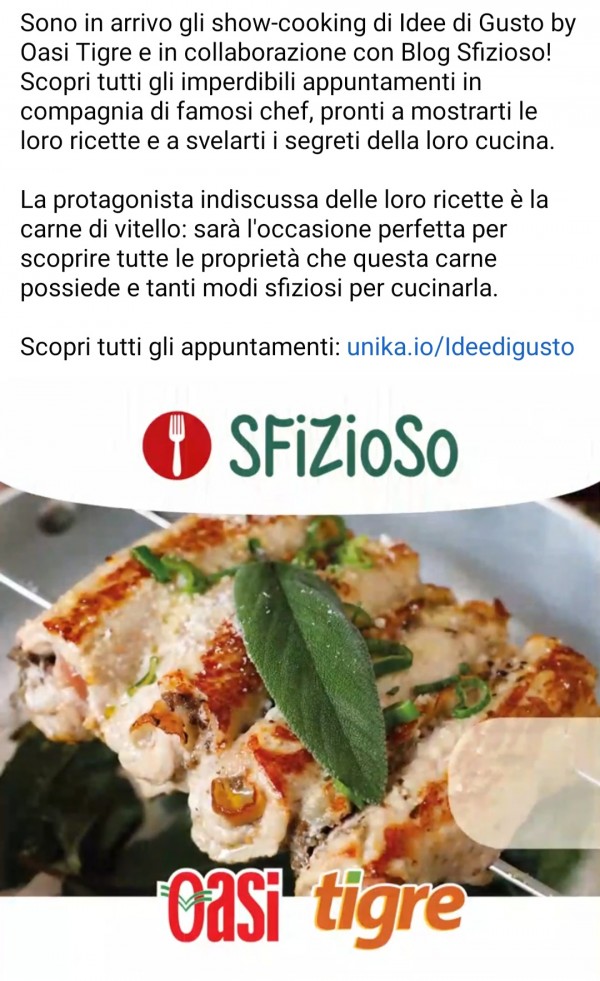 Now it is late and the time is come to finish this report. I hope you enjoy it. Friendly regards Enzo
Gerelateerde blogs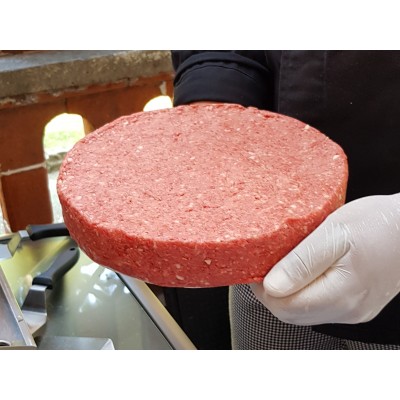 The Urban Share Steak Burger, as the product's name says, was born as a burger to share. The ingredients are exclusively natural. Meat comes from suppliers previously selected according to the virtuous production of breeders, the level of food safety and the certifications acquired.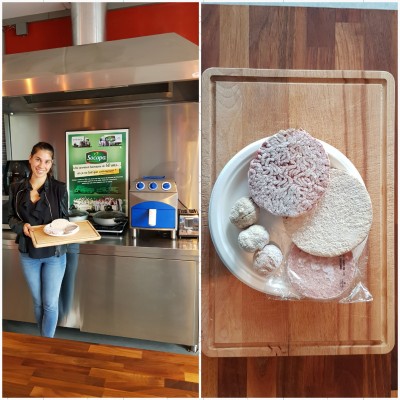 Enzo Sisto 4 augustus 2017
By Laura I'm Laura, an italian student who's having a stage by the Office of COFOS BV.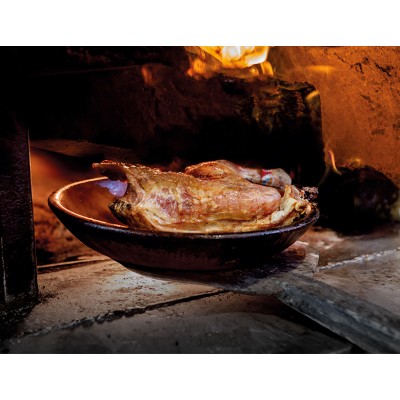 Enzo Sisto 15 december 2021
Cooking lamb for Christmas is a deeply felt tradition in Italy as well as in other European countries.
Here are 2 traditional French and Spanish recipes perfect for this special occasion.