Corsica

Enzo Sisto 11 augustus 2022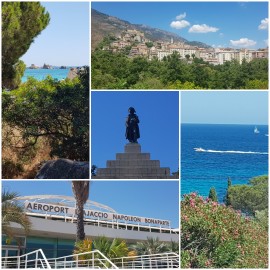 Corsica.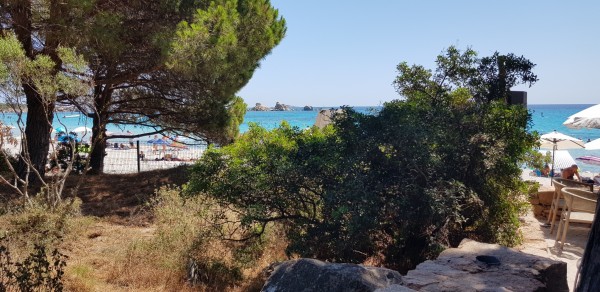 For those who love life, the sea and nature, this Mediterranean jewel is a gift. The contrast of rugged mountains, crystal clear sea, wild woods, Mediterranean fauna and flora, poignant and blinding colors ignites passion for knowing how to live well.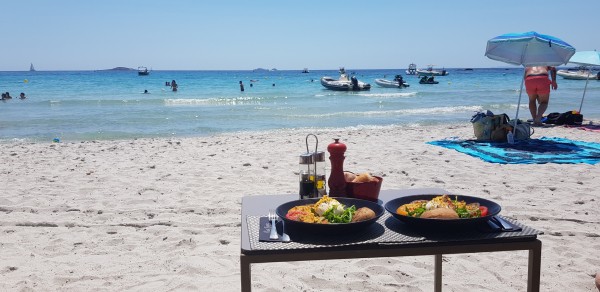 And in this the Corsican people are majestic. Knowing how to live! Look how nice the beach table - Playa Baggia beach in Palombaggia - that allows you to eat a caprese salad with your feet in the sand looking at the sea in the very first row.
The people of Corsica
They are kind but passionate, calm but determined, conscious but dreamers. Proud of their identity and the awareness of being different. And they love to eat and drink well! Their pride is equal to the passion for their land which they treat with respect. Know that it is a heritage to be preserved and left as intact as possible to their children. Corsican products reflect this way of being. From jams, cured meats, ice creams, everything has the taste of seasonality and natural cultivation. Where possible the Corsican people choose circular, sustainable, organic.
BIODELICE
For example BIODELICE in Porto Vecchio is a state-of-the-art organic shop where in a single space there are 4 different activities: health and wellness, a bookshop with catering, cosmetics and accessories for the body and mind, and finally a traditional supermarket in which the vegetable department and the butchery have a prominent place in a neighboring space in symbiosis. As if to explain the message that meat and vegetables are both very important for a correct and balanced diet.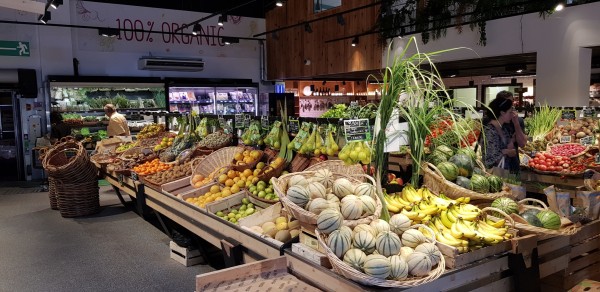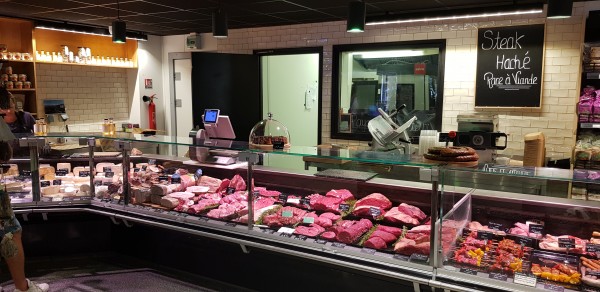 "De Spar Supermarket"
In Corsica there are all kinds of surprises. For example, in the beautiful Spar, a supermarket in Porto Vecchio on the road to Bonifacio, they have a wine cellar that you can hardly find in other supermarkets. How about a 2010 Petrus for example? A bottle worth 5000 euros! I don't think I will ever drink such a fine wine in my life ...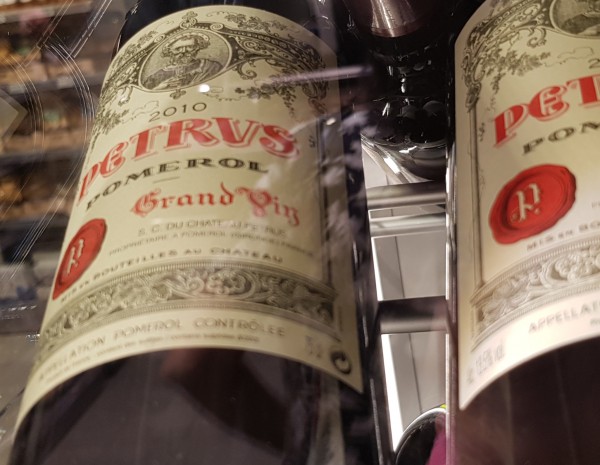 Not only wines but also an exceptional choice of meats: dry aging bone-in steaks from over 10 European and non-European fine breeds. And a lot, a lot of variety of cuts and gastronomic solutions based on veal. Here we discover that the veal is an integral part of the Corsican culture.
Love for veal that can be found on restaurant menus. From the escalope de veau to the cote de veau or the ubiquitous "vitello tonnato". Also in tradition with the typical Bonifacino dish: "saute di veau". But also keftas and taco with veal are now a trend here in Corsica.
There is no denying it: I like vitello tonnato enormously.
Let's find out together a couple of addresses where my taste buds have had moments of ecstasy.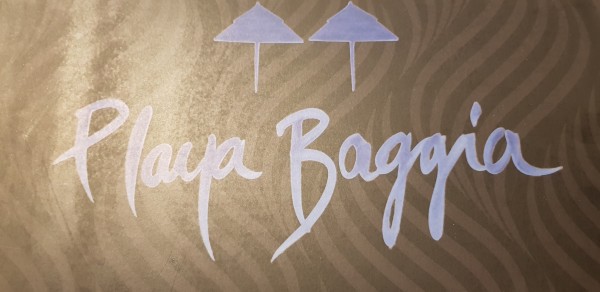 And the first surprise is when arriving to Playa Baggia restaurant, on the beach of Palombaggia in the south east of the island. On the menu they inform us that they have "Dutch veal". Everything (meat) is Dutch. Wow. You can order for example: "Vitello tonnato" - "Escalope de veau" - "Keftas de veau" - "Cote de veau pour deux personnes" - ...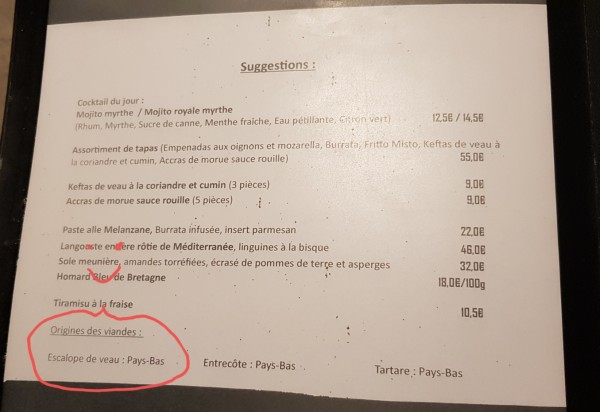 VITELLO TONNATO
In Lecci a few kilometers north of Porto Vecchio there is a restaurant that is a pearl of Corsican gastronomy: Emporium. Chef Sebastian Salamon favors fresh local products with a traditional but not trivial gatronomic interpretation and a smell of internationality in the search for colors and flavors of the Mediterranean basin. The raw material French veal. The dish is a "veal in tuna sauce" with an old-fashioned sauce and fresh tuna slices with thin slices of veal to embellish everything.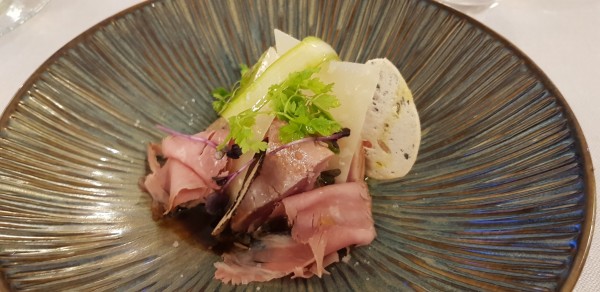 Another superlative dish from the lamb shoulder is a "sauté" lacquered with love and tenderness which have an ancestral flavor. A delight.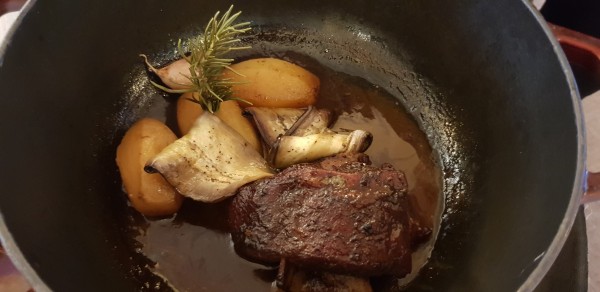 We go back to the coast of the Tyrrhenian Sea with a visit to Bar Plage, a quality restaurant on the beach of Santa Giulia. Here in addition to the delicious "vitello tonnato" served with a topping of fresh vegetables and aromas of candied citrus.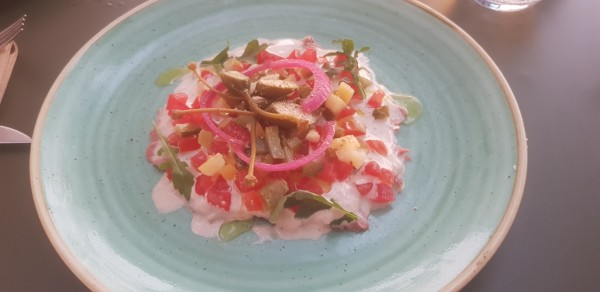 After having tasted the superlative "vitello tonnato" what could be better than an artisanal ice cream with only local seasonal fruit, kilometer zero, without dyes, preservatives, structural additives, thickeners and structure enhancers? And here is the ice cream according to Edmond Casanova. We taste "Peche de vigne" and "Nucciola" (vineyard peach and hazelnut). It was a surprise.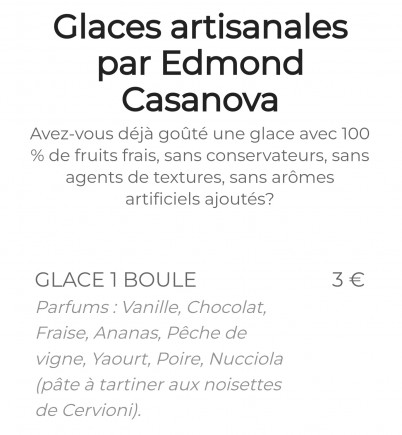 We tasted it and I must admit that I had never, really never, eaten an ice cream made this way before in my life. Awesome. And believe me, since I love ice cream, I have enjoyed it everywhere. From Mario Campanella to Polignano, where Domenico Modugno sought inspiration for his most famous songs, up to Dondoli in San Gimignano.
So we decided to stop by Edmond during our excursion to Corte, the old capital of the Corsican Republic.
For over 150 years the Casanova di Corte family has had a passion for pastry, bakery and ice cream. Their first registration to the chamber of commerce dates back to 1887. In fact this is the current name: "CASANOVA 1887".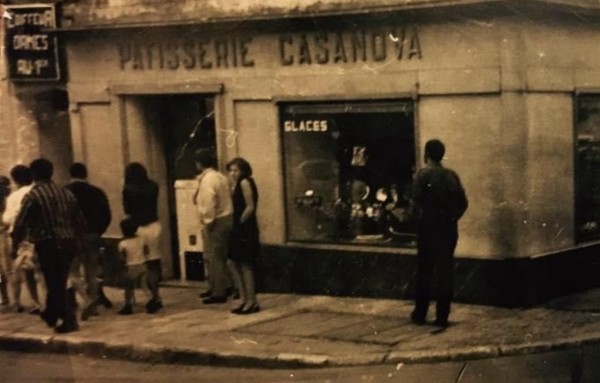 Today a modern pastry shop with a modern laboratory where the products are made with love and without compromise, trying only to respect and use what nature has made available to us: fruit, eggs, milk, sugar.
Edmond welcomes us cordially with a smile and a tranquility that immediately inspires trust and sympathy.
He tells us that when he joined the company he was not happy with the way of making ice cream. After studying and researching, having spent stages both in France and in Italy, he conceived his own idea of ​​him: de-sugar the ice cream to make it fresher and less caloric, using only the ingredients of nature to make it a healthy food rich in nutritional values, antioxidants and vitamins.
This same philosophy drives the entire CASANOVA range. From bread, to pastries, to cakes, ...
The meeting with Edmond was cordial and very pleasant.
And he proudly did not fail to point out the entry of his son into the company, which will guarantee continuity for another generation.
We will definitely hear about him and his products.
We have already told you about the pride of the Corsican people and that they love to affirm their own identity. This has a historical root not very distant in time. Let's talk for a moment about Corte and Pasquale de Paoli.
CORTE and Pascal de Paoli
Between 1755 and 1769 Corte was the capital of Corsica declared independent. Today this town in addition to the university has a very interesting historical citadel, many restaurants with products and typical dishes of the area and hosts the historical museum of Corsica.
Filippo Antonio Pasquale de Paoli (6 April 1725 - 5 February 1807), whose statue adorns the main square in Corte a few steps from the Casanova pastry shop, was a Corsican patriot who ruled the island for 14 years (from 1755 to 1769 ).
De Paoli received his education in Naples, where his father lived in exile. He received the education and inspiration for the subsequent exploits in the Kingdom of the two Sicily under that Charles VII of Bourbon who, at the death of his brother in Spain, was called to reign as King of Spain as Charles III of Spain. Charles III has been the king most loved by the Spaniards to this day, just as he was in Naples. The historian Giuseppe Galasso defined his reign as the "most beautiful hour" in the history of the Neapolitan.
Pasquale returned to Corsica in April 1755 to take command of the resistance against Genoa. Carlo Maria Buonaparte, father of the future emperor of the French, Napoleon Buonaparte, assisted him in this. On 13 July 1755 he was appointed "General of the Nation". De Paoli managed to liberate almost the whole island, after which he established a democratic government based on Montesquieu's theories: with separation of powers and popular sovereignty.
Jean-Jacques Rousseau and Voltaire regarded him as the most enlightened politician of his time.
The Corsican constitution, which Pasquale drafted in Naples before returning to Corsica, was revised and corrected by his friend Rousseau. De Paoli made Corte the capital and founded a university there, which still exists today. Corte is in fact the smallest French university city.
This adventure ended in May 1769, needless to do so on purpose, the year of Napoleon's birth. Today Corsica despite being an integral part of the French Republic has its own identity and proudly preserves its own cultural roots. In fact, the Corsican language, which closely resembles the dialect of Genoa, still lives in the island culture.
There is still a lot to say about Corsica. My invitation is to discover it for yourself. I close with a gastronomic tribute that reaffirms the friendship between Corsican and Neapolitan people.
A great "Trendy fashioned Capri salad" enjoyed at Bar Plage, Santa Giulia. Thank you very much for your attention and see you soon.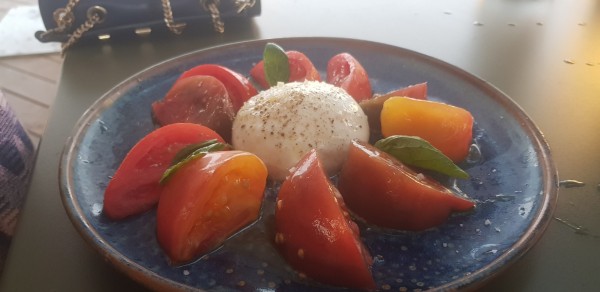 Gerelateerde blogs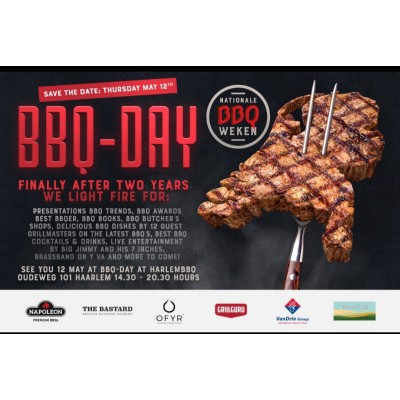 Haarlem May 12, 2022 Great BBQ event organized by the Dutch National BBQ Weeks Foundation. Just two days ago.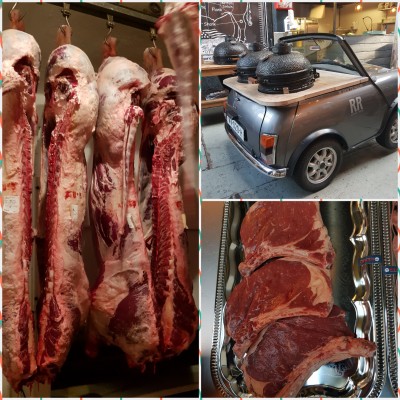 Enzo Sisto 27 december 2017
Breaking news: Dutch BBQ Championship 2018 Save the date When: April 13, 2018 Where: Oudeweg 101 2031CC Haarlem The Côte e Boeuf pure Limousin of Château Boucher will be one of the disciplines during the...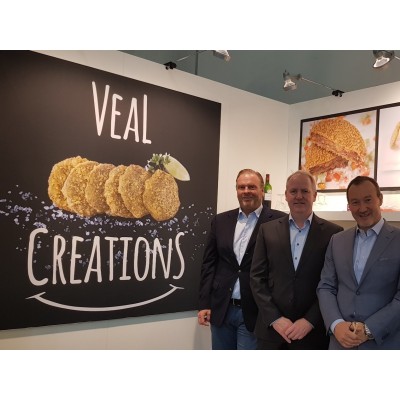 Enzo Sisto 27 december 2017
Successful participation at Anuga of our friends of Veal Creations.