What's new in the Basque Country?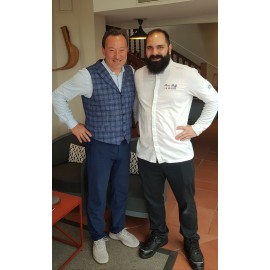 The goal of coming to the Basque Country was first of all to have a look at the new trends in gastronomy and also to meet the local production of lamb, beef and milk-fed veal.
Encontrarse. To meet.
Food Fusion combines several gastronomy schools in one dish. Sometimes it reflects the union of regionalities. Often it is an invention of the chefs who combine products of one region with spices typical of another culture and unusual ways of cooking.
What comes out has a different cultural and taste identity. Sometimes pleasant, sometimes exaggerated, never banal.
What I found is that in the Basque Country, gastronomic culture today has another name: "encontrarse".
"When the ingredients come together in a dish, the composer - the chef - guides our emotions and educates us to a different experience. These ingredients after having gone through different cooking methods, along different aromatic paths, coming from sea or land origins, meet each other in the plate without fusion and create a gastronomic event."

The products of the ocean meet those of the earth but do not lose their identity. Tradition meets innovation. But they don't merge unconditionally. Encounter does not mean fusion.
The chef brings together the products in the dish but does not blend them.
Each is together with the other and they coexist in harmony, each enhancing diversity without integrating.
Sweet coexists with salty, sour with bitter.
The multiculturalism we pursue among people in modern society, respect for diversity, not wanting to adapt everyone to our way of thinking, is already a reality in Basque gastronomy.
The consumer encounters the coexistence in the dish of different flavors, cultures, techniques and ingredients and savors its complexity as an advantage.
Being different and loving diversity becomes a way of being.
Encontrarse.
We have identified this joyful and respectful way of combining raw materials between tradition and innovation without blending them but preserving their identity in the dishes of the young chefs of the Basque region, both French and Spanish.
Perhaps it reflects the innate desire of the Basque population to have the right to be different in a peaceful, respectful, joyful and positive coexistence.
We have met this new style with pleasure.
Some of the chefs we met cooked for us. Here in the article a series of places and dishes to discover.
So before talking about the chefs let's talk about ingredients. The meat from a cooperative of traditional breeders: AXURIA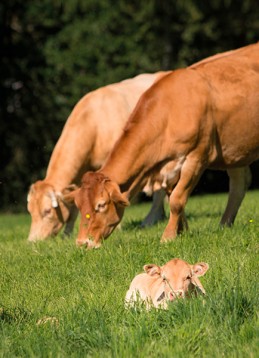 The AXURIA Cooperative, located in Soule, in the heart of the Basque Country, brings together 300 breeders from the Basque and Pyrenean valleys. Breeders of suckling lambs from the Pyrenees and blond cows from Aquitaine united around the same pride for their origins, the same passion for their profession.
Their products are found among local restaurants. Consumers can also buy tasting packages with different types of meat and selections directly from the cooperative through their web shop.
Their love and passion for the land and tradition is reflected in the taste of the products on our plates.
A virtuoso production accompanied by the excellence of the Basque Country gastronomy.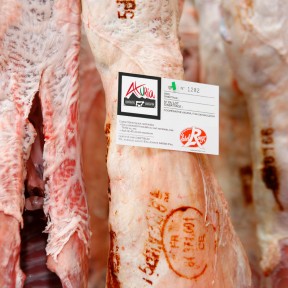 ILURA Saint Jean de Luz
Pierre Boffo, in the main photo together with Enzo Sisto, now executive chef of the Ilura restaurant in Saint Jean de Luz, for the first time featured in Objectif Top Chef season 3 in 2016!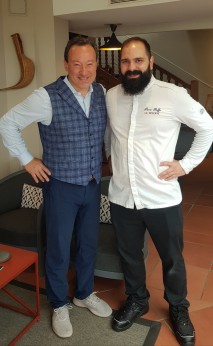 Pierre Boffo, a chef from Toulouse, qualified on Monday, October 24, 2016 in Objectif Top Chef for the semi-final, at the age of 20. He was in the 2nd year of BTS Hôtellerie Restauration.
Pierre did a first internship in Relais & Châteaux with Michel Bras, where he learned cooking around flowers, edible plants and other herbs.
After a discovery trip to Australia in 2018 to discover the gastronomy of plants and gluten-free, returns to the southwest of the Basque countries to take over at the Ilura restaurant.
Pierre becomes a "Maître restaurateur" and in an interview for the magazine des Maitres Restaurateurs de France declares:
"The title of Maître-Restaurateur reveals an extraordinary know-how and respect for the product. It's all about highlighting and seasonality. Our producers are precious, they are closer to the environment. These people get up every morning to give us the best product. They entrust it to us so that it ends up on our plate. They are above all the story of our kitchen! »
We visited Ilura on Wednesday April 27, 2022 and we were enchanted by the delicate interpretations of contrasts and the flawless use of a material balance between animal and vegetable proteins.
Above all the Basque aperitif: the Txapa!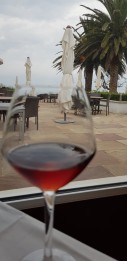 Resulting from the assembly of macerations of white wine, fruit liqueurs, plants and spices. Its subtle cherry taste and freshness on the palate will surprise you.
Starter Cod petals with citrus fruits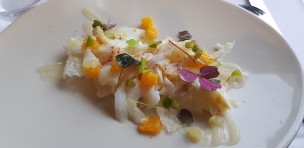 Then Pulled Axuria beef with a mashed potato of a rare lightness (AXURIA is a fine local cooperative that produces the Blond d'Aquitaine breed)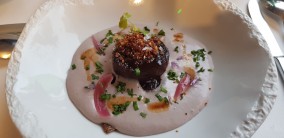 And The fillet of hake in its vegetable dish
To finish the Kiwi dessert with its yuzu hang hop
A mention for the amuse in a Basque version with milk-fed veal:
cut delicately tender and savory with a puree of caramelized onions and crunchy onion petals. Delicious.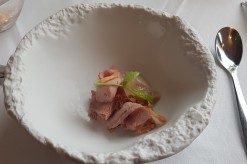 L'Essentiel - Saint Jean de Luz
Immediately on the restaurant's website we can read:
It is with passion that the young chef Morgan Ortéga makes you discover his cuisine. With clear ideas about his future, he will start with a Bac pro cuisine in Libourne. Morgan Ortéga entered the Paul Bocuse Institute in 2013 to begin his graduate studies in Culinary Art. An institution, a French-style transmission of know-how.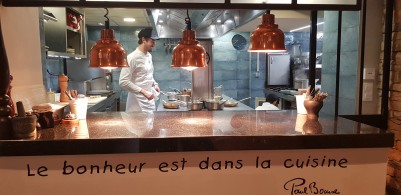 We ate at Morgan's on Thursday evening. A surprise to see how he can transmit his enthusiasm and his skills on our plate.
Here the ocean meets the land with a variety of contrasting but balanced tastes.
We chose as a starter:
Royale of asparagus and its roasted red mullet combined with the crumble of olives and the parmesan flirts with the Mediterranean.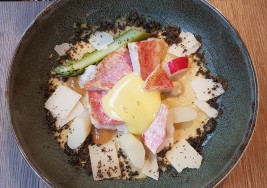 Roasted scallops, emulsion of ham and bean and peanuts cream.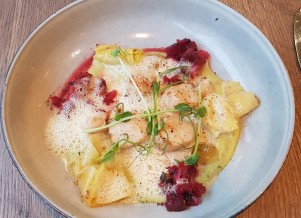 Afterwards, we come back to the Pyrenean lamb and the Landes poultry revisited with their surprising accompaniment of purees, candied vegetables, watercress pesto, ...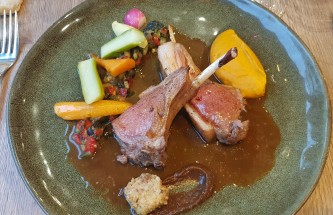 Few words about the lambs production.
The suckling lamb from the Pyrenees is a traditional and ancestral production of the Basque Country and the Béarn. It feeds exclusively on breast milk while breastfeeding. Any preventive or curative health treatment is prohibited, with the exception of homeopathy. Pyrenean suckling lamb is a seasonal product available from autumn to early summer.
Traditionally the lamb from the Pyrenees was only eaten on special occasions, as it was considered a dish of some wealth. In the 14th and 15th centuries, the suckling lamb was a significant source of wealth, as it was used for payments in goods (for example, for the payment of rent). But it was only at the beginning of the 19th century that suckling lamb became a real "production".
The three main dairy breeds are the black and the red headed Manech and last but not least the Basque-Bernese.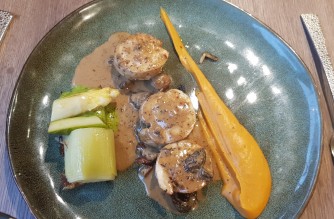 Dessert: a caramelized tatin-style apple pie that enchants with vanilla Bavarian cream, manzana jelly, mango, ...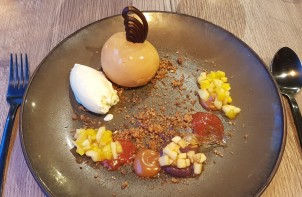 A little word for the welcome appetizer made of Jerusalem artichoke tartare and smoked duck breast with a fruity sauce.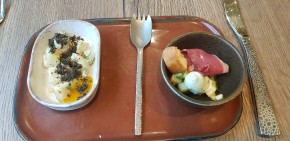 ETCHEBASTER Saint Jean de Luz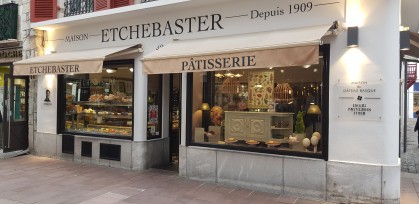 The kings of Basque cake in Saint-Jean? On rue Gambetta, the Etchebaster brothers since 1909 have acquired the title and the reputation.
Today they have left the family shop in the hands of their niece Mathilde Cabantous. The house has not changed its name or spirit.
We took a hot chocolate with milk and a "PETIT ROI" with orange blossom. Delicious.

BAYONNE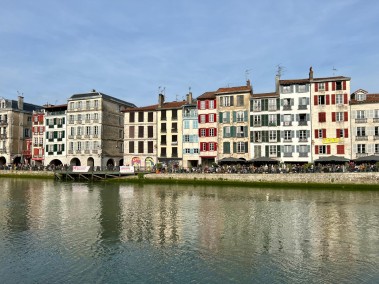 Bayonne has been an important city since Roman times. Closed and protected by the two rivers that surround it, it was located on an important communication road between France and Spain.
Bayonne known for the production of weapons in the seventeenth century (it gives its name to the bayonet, invented and produced in this city) but also today for the production of the homonymous cured ham. Capital of the French Basque Country and a city that thrives on joy, music and gastronomic excellence.
Inattendu - Bayonne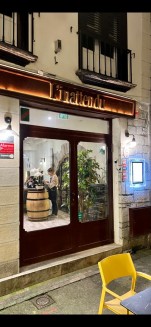 Manon and Mathieu welcome you to this restaurant in the historic heart of the city. Manon is delighted to explain that when she was only 24 and Mathieu 26 they decided to start this gastronomic adventure by opening a restaurant together.
Manon sommelier and dining room maitre and Mathieu in the kitchen.
Their "bistrogastronomie" has unexpected and welcome aspects. Guessing risky and harmonious but never simple combinations.
A friend of theirs, Christophe Gonzalez, vice world champion in 2017 as Master Cheesemaker, provides them with the extraordinarily light whipped butter and the region's cheese plateau.
Like the "Cheese like Reblochon but made by us". Look at the beautiful whipped butter here: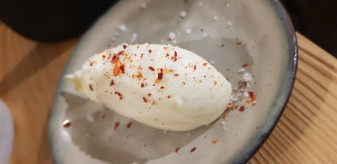 First of all Manon lets me try the Ibaïona ham.
"Why is this ham so delicious?" She told me that: " It is a traditional and local product. The air is what makes Ibaïama ham so good. (formerly Ibaïona Ham). A friend of mine who is a pork butcher and farmer makes it, and we are very lucky and happy to serve it here."
Ibaïama ham (which means 'mother source' in Basque - source AANA) is only made by using pigs from the Basque Country. They must be minimum 11 month old and reach 180 kg before slaughtering. And we tried a cured 18 month old ham.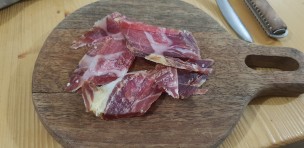 Mackerel with macadamia ice cream and spring peas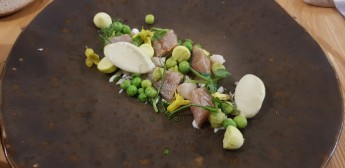 Glazed pork cheek on a bed of quinoa soufflé and artichokes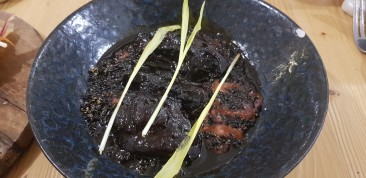 Fish of the day (cod) and clams with sprout foam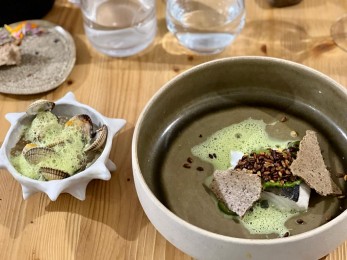 Unmissable cheese plate from the region composed by Christophe Gonzalez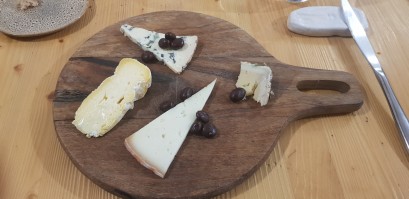 New spring strawberries with rice and cardammon ice cream and avocado delight.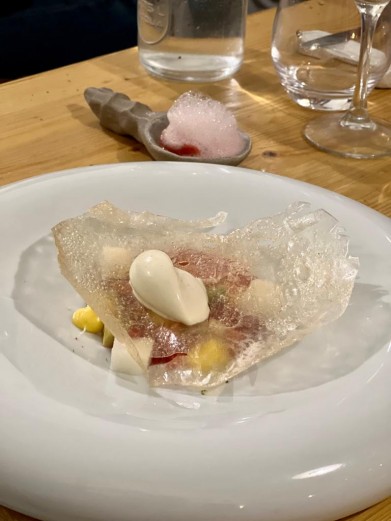 So if you are in Bayonne you know the places to be.
Here some nice pictures of Christophe Gonzales cheese shop: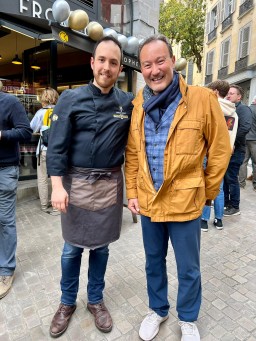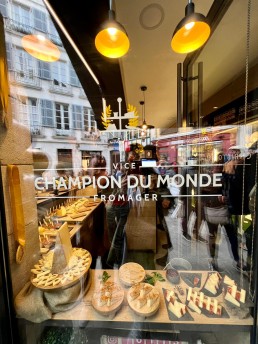 BIARRITZ
Biarritz is more than a tourist resort on the Atlantic Ocean. It is a way of life. With its 4 km of beach and the impromptu lifestyle, Biarritz has become the capital of European surfing and has the nickname "French California". Its turquoise waters, the enviable position at the foot of the mountains, the gastronomy, but above all its cosmopolitan culture makes it fascinating in all seasons.
The food hall of Biarritz.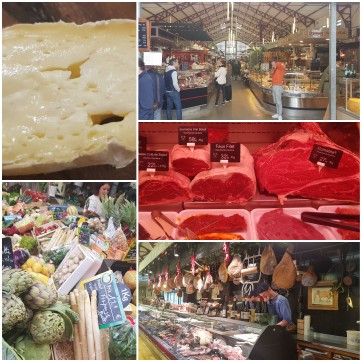 Absolutely visit the food halls. And in the halls, a tasting of oysters and squid alla plancha at Chez Jerome accompanied by a local wine from the south west, is a must.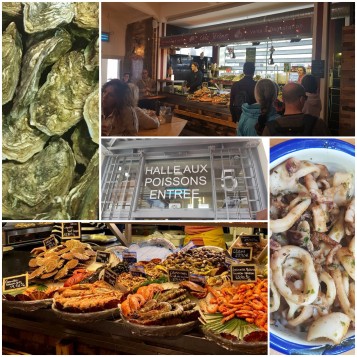 Les Lierres - Jean Jean de Luz.
The hotel site tells us: "Guillaume Applaincourt takes advantage when the hotel is closed to enrich his knowledge and diversify his techniques alongside starred Grand Chefs such as Jean-Marie Amat and Richard Coutanceau in France, as well as Juan Mari Arzak and Martin Berasategui in Spain."
The impression we have is that Guillaume Applaincourt must adapt his gastronomic world to the traditional clientele of the five-star hotel. People who come here do not want to be "really" surprised.
We find during our dinner a very little of Basque cuisine and a lot of traditional French cuisine. If you want to dine in a "safe harbor" as you would in Paris or Lyon or Orleans, this restaurant is for you.
A good standard, attentive service, a quiet and pleasant atmosphere.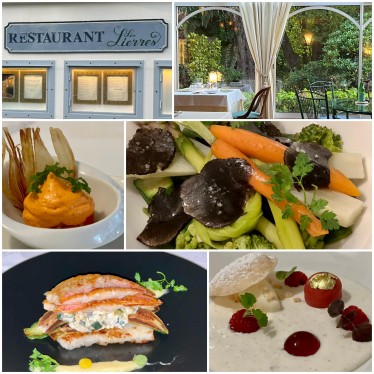 We have tasted:
Spring vegetables in warm salad
Fillet of red mullet, risotto and zucchini
and for dessert Ris au lait... everything was good performed. A little to salty the red mullet.
A mention for the black truffle of Perigord (Lalbenque) which can be tasted in combination with several dishes.
BILBAO
We are in Bilbao. City known for the Guggenheim Museum.
... but also for pinchos.
Pincho, or pintxo, is a term used in north-central Spain, to be precise in the Basque Country, in Navarre and in Castille and León, to identify an appetizer that accompanies the aperitif.
Today, more than an aperitif, the pincho could replace a complete meal because it consists of a series of slices of bread beautifully composed out of one or more ingredients.These litlle works of art give space to gastronomic interpretation and Basque imagination. Each pincho is different from the previous one. So "going for pichos" is a very pleasant occupation.
The name derives from the fact that traditionally the pincho was held together by a toothpick, even if today this characteristic is not always respected.
Cafe Iruña
Since 1903 the traditional place to meet for an aperitif or a coffee.
Here we tasted the acorn-fed pork ham (bellota) pata negra 100% Iberian genetics produced by Sanchez Romero Carvajal. A house that since 1879 has been making only exceptional products.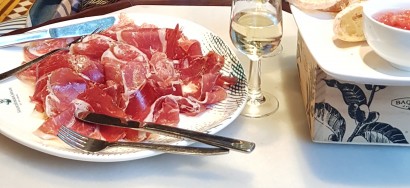 The Victor Montes
Since 1846 an address in the city.
Many celebrities have visited this restaurant. Some of the most famous dishes on the restaurant menu: Norwegian Salmon with gold powder and Piedmont truffle, or Liver of fresh Foie marinated 45 hours, or Butterfly Anchovies of the Cantabrian Sea with Arbequina caviar. An impressive collection of exceptional wines and spirits.
We enjoyed the pinchos which were really delicious. And served sympathetically with an "Olé!".

.
BURGOS
We left the Basque country to visit my dear friend Ramon Masa. A leader in the production of meat from Castilla y Leon. In Hermanos Masa enterprice they know that the love for authentic flavors and for things well done can only be learned in the family and respecting tradition. Ramon says:
"This is how we are at Hermanos Masa: a family business with two decades of experience in the sector that is dedicated to bringing its customers the most authentic flavors, mainly Suckling Lamb and Lamb from Castilla y León in different formats: Whole, half, quarters, chops …"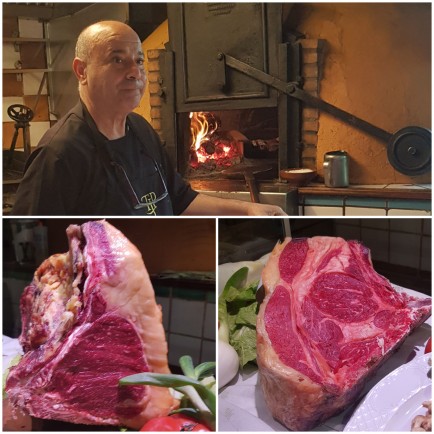 With Ramon and his wife Noelia we went to Casa Azofra, an "asador" (grill oven) restaurant in Burgos. It is one of the top ten asadors in Spain and we enjoyed their "paletilla" of suckling lamb in the oven. We had already written about Alberto the owner of Casa Azofra and his passion for lamb. Naturally the supplier of Casa Azofra is Hermanos Masa. Alberto leaves nothing to chance. In the photo the "master asador" of Casa Azofra and also from left to right a dry aged Sirloin of a Simmenthal cross and an Entrecote of pure Rubia Gallega. If you don't like lamb, you will still find other excellent products here...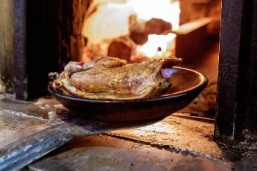 .
In the next article I will tell you about our meeting with Jean Mari and Elena Arzak in San Sebastian. They deserve a special and separate chapter in our story. See you soon.
Enzo
Gerelateerde blogs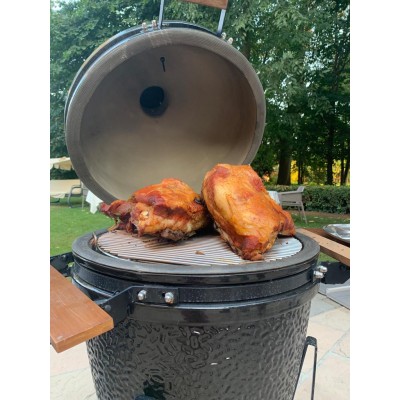 Enzo Sisto 25 februari 2022
Born in the United States, the fashion of BBQ has spread over the last few years to Europe as well. The Netherlands in addition to the windmills, bicycles, Van Gogh and Rembrandt and tulips are proving to be masters in BBQ. This complete line of meat products for both BBQ amateurs and pit masters are "Made in Holland" and it is frozen in IQF-Hyperfrozen®. It offers to you innovation, conviviality, but also comfort and affordability.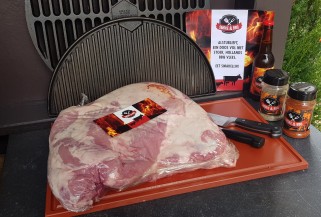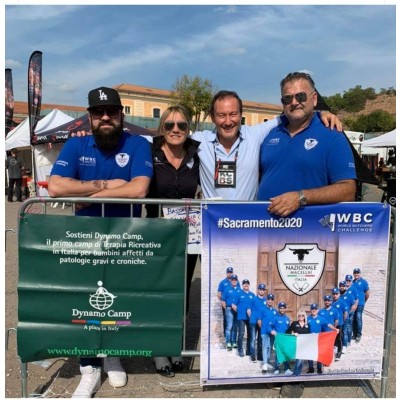 Enzo Sisto 19 oktober 2019
Rome October 13th 2019   When Orlando di Mario told me the story how great was winning the European Championship in Augusta Germany last month, I was really impressed.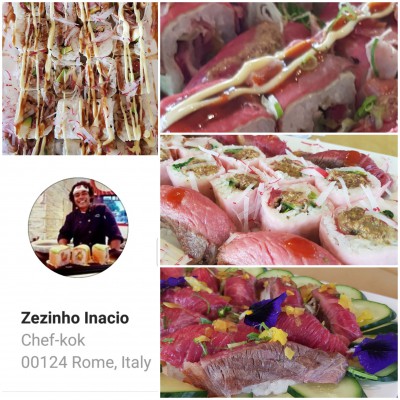 Rome February 2019. A revelation by chef Inacio Zezinho. Brazilian of origin, Japanese of adoption, Italian of passion.