ANUGA 2023 first day report. Food innovations, trends and more.

Enzo Sisto 7 oktober 2023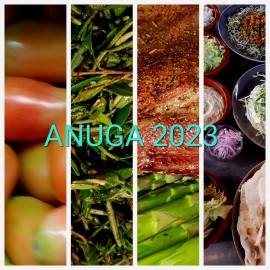 Anuga 2023: Shaping the Future of Food and Beverages.
Anuga stands as the world's foremost trade fair for food and beverages, a very important center of change and diversity. In an era marked by a shift toward sustainable and equitable food systems, Anuga gathers the global food industry's biggest community, fostering a sense of hope and innovation.
With opportunities for face-to-face discussions with influential buyers and decision-makers, bustling order books, a diverse international audience, and a well-structured event encompassing 10 trade shows, Anuga provides a holistic perspective on industry trends and insights. It's a platform that not only inspires collaboration but also propels a values-driven future.

Trends
In the vibrant setting of this year's Anuga event in Cologne, spanning five dynamic days from October 7th to the 11th 2023, it was evident during this first fair's day that the global food market is currently undergoing a fascinating evolution. This transformation is driven by a heightened awareness and interest in several exciting confirmed and rapidly emerging culinary trends, which are captivating the taste buds and preferences of today's discerning and health-conscious consumers.
Embracing Clean Label Sensibilities: One of the standout trends at the event was the wholehearted embrace of "Clean Label" products. These include organic, natural, and non-GMO offerings that resonate deeply with consumers seeking food products that embody transparency, purity, and sustainability. This trend underscores the growing demand for foods that not only nourish the body but also uphold ethical and environmental values.
Revolutionizing Convenience & Snacking: In an era characterized by hectic lifestyles, the Convenience & Snacking category has undergone a remarkable metamorphosis. Today's consumers are on the lookout for quick, yet wholesome, options that seamlessly integrate into their fast-paced lives. Innovations in snack products and convenient meal solutions are reshaping the on-the-go food experience, redefining how we snack and dine.
Free from, Health & Functional Food: Dietary considerations and health-conscious choices continue to fuel the growth of "Free From" products, catering to individuals with allergies, intolerances, or specific dietary needs. Additionally, "Health & Functional Food" has emerged as a pivotal trend, with consumers actively seeking foods that offer tangible health benefits beyond basic nutrition.
Organic's Unwavering Ascendance: The organic movement is on an unstoppable ascent, capturing the imaginations of consumers who are increasingly drawn to organic products. This extends beyond fruits and vegetables, encompassing a wide spectrum of food categories, as more people embrace sustainable farming practices and opt for chemical-free nourishment.
Plant-Powered Revolution: The culinary landscape is witnessing a plant-powered revolution, with plant-based proteins and food options, including vegetarian and vegan alternatives, challenging traditional food norms. These products appeal not only to ethical consumers but also resonate due to their potential environmental merits and perceived health advantages.
Superfoods & Ancient Grains: Explorations into the world of "Superfoods" and "Ancient Grains" are captivating consumers in search of nutrient-rich, health-enhancing ingredients. From quinoa and chia seeds to moringa and acai berries, these super ingredients are finding their way into diverse product offerings, elevating nutritional profiles and enticing palates.
Sustainability at the Forefront: The conscientious consumer is increasingly drawn to products that champion sustainability, whether through eco-friendly packaging choices or ethical sourcing practices. This overarching trend reflects a commitment to reducing the ecological footprint of the food industry and underscores the growing importance of sustainability.
Certainly, it's crucial to recognize that many individuals may face financial constraints when seeking to align with these evolving food trends. However, from a professional standpoint within the food industry, it's vital to convey that these trends need not remain out of reach, even for those on a budget. As dedicated experts in the realm of gastronomy, we empathize with the financial challenges that may accompany the pursuit of staying current with the latest culinary trends.
While these trends may emanate an aura of luxury, it is essential to emphasize that practical and budget-friendly avenues exist for incorporating elements of these trends into your daily culinary repertoire. The essence lies in striking a harmonious balance between financial resources and the aspiration of our customers to fully embrace these trends. By making gradual, thoughtful adjustments to your product assortment, you can assist your valued customers in embarking on a journey toward a more sustainable and health-conscious approach to dining, all without imposing undue strain on their finances.

Anuga's Taste Innovation Show
It serves as a global trend barometer and a wellspring of inspiration for the food industry. An expert jury of journalists and market researchers have selected the top 10 innovations, which have be presented during Anuga as part of the "Anuga Taste Innovation Show" powered by Anuga Horizon. Selected innovations have also received exposure on the Anuga website and in the press.
I want to thank ANUGA's Innovation award team for the very clear website and the easy to use database. It was very useful to me in this article. See https://www.anuga.com/press/press-releases/anuga-new-products/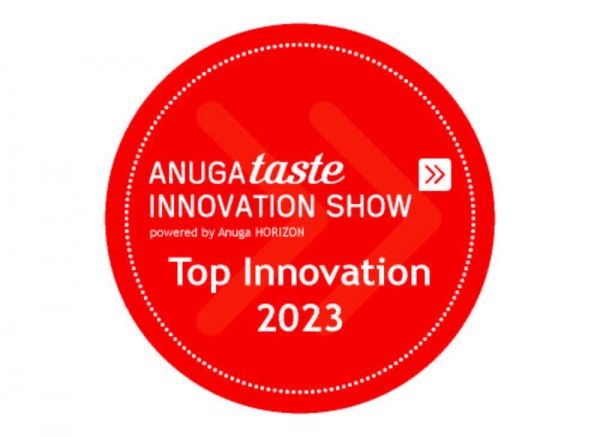 Winners are ...
Casa Vercelli wins Innovation Award in Meat-Based Products (the real meat not the fake one) with "Braised Veal Cheek in Barolo Wine."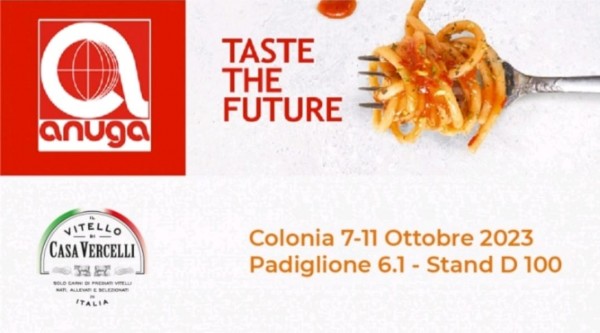 The flagship innovation undoubtedly lies within the "Ready to eat" ("GIA COTTI NEL SACCO") products line. This exclusive collection features premium cuts of veal, expertly cooked at low temperatures, without the addition of preservatives, and prepared according to authentic Italian gastronomic traditions, all with a keen eye on a gluten-free diet. What makes these products so special? Their incredible versatility and quick preparation. Just a few minutes in the oven, microwave, or skillet can transform these culinary masterpieces into a delightful, light dish that can satisfy the palates of the entire family.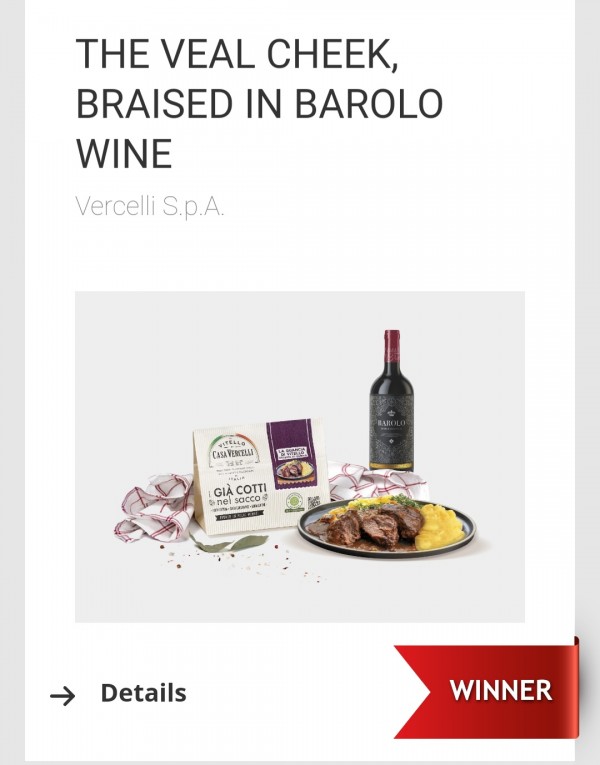 The product line includes four exceptional items: Veal Roast and Veal Cheek braised in Barolo Wine, Veal Shank, and Veal Osso Buco.
The Veal Cheek braised in Barolo Wine - officially the Taste award winner of this line - is an incredibly tender cut of veal, slow-cooked with the noble wine of Langhe according to authentic family recipes. All products in this line are free of preservatives and gluten-free ingredients. These delicate dishes truly elevate the natural flavor of veal, offering an extraordinary culinary experience.
Here below, from left to right, it's me, Gianluca Vercelli, and Matteo Zanasi, proudly delighted by the recognition granted. Please note in the photo at the top right also the label guaranteeing animal welfare in farming. A greta day filled with international guests at Casa Vercelli.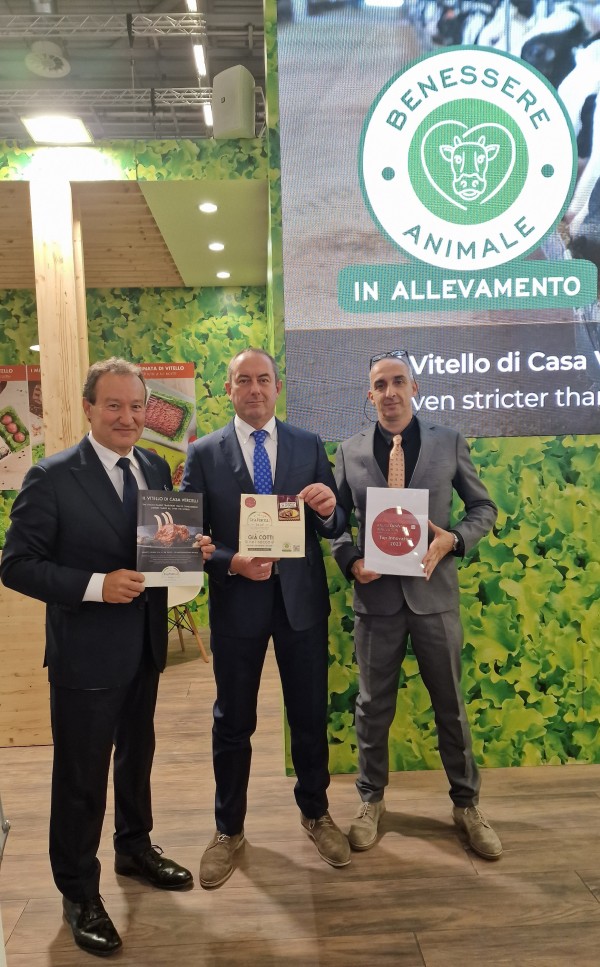 .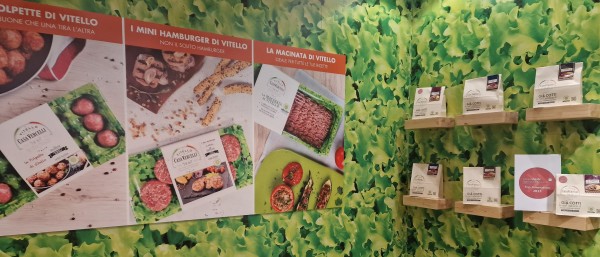 Here are some other new products.
Let's start with some truly interesting ones, like the Italian Southern Tyrol's "The Garum Project" line, which caught the jury's attention with its locally sourced Milk Garum: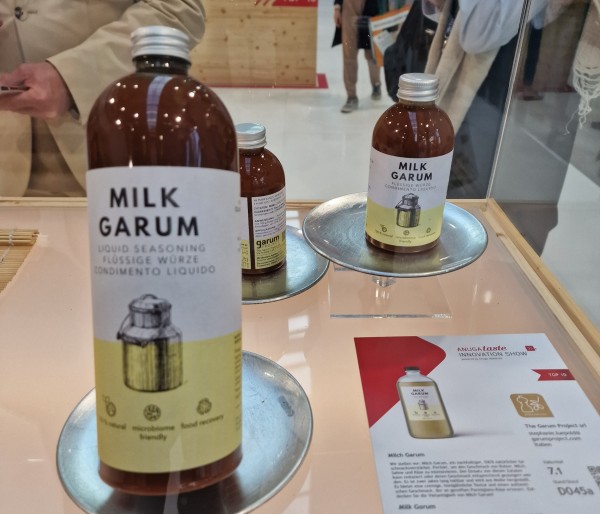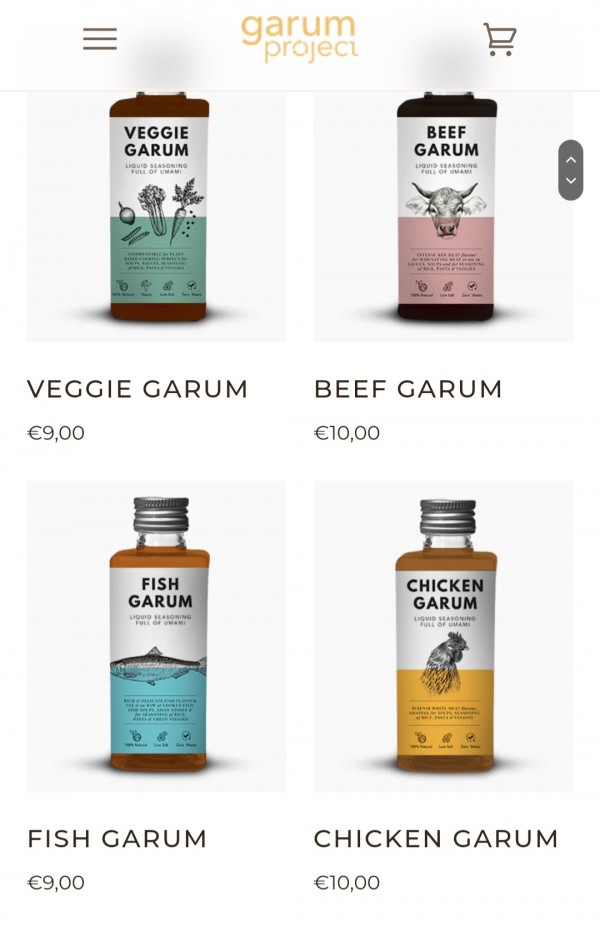 Garum was a prized fish sauce in ancient Roman cuisine. It was made by fermenting fish with salt in the sun, resulting in a savory liquid. Romans used it as a versatile seasoning and flavor enhancer in their dishes. While it disappeared from European cuisine with the fall of the Roman Empire, there's been a recent resurgence of interest in garum among chefs and food enthusiasts. Today, Garum finds its heir in the "Colatura di alici di Cetara". We find this rediscovery of seasonings from non-marine origins very intriguing. Here the milk one: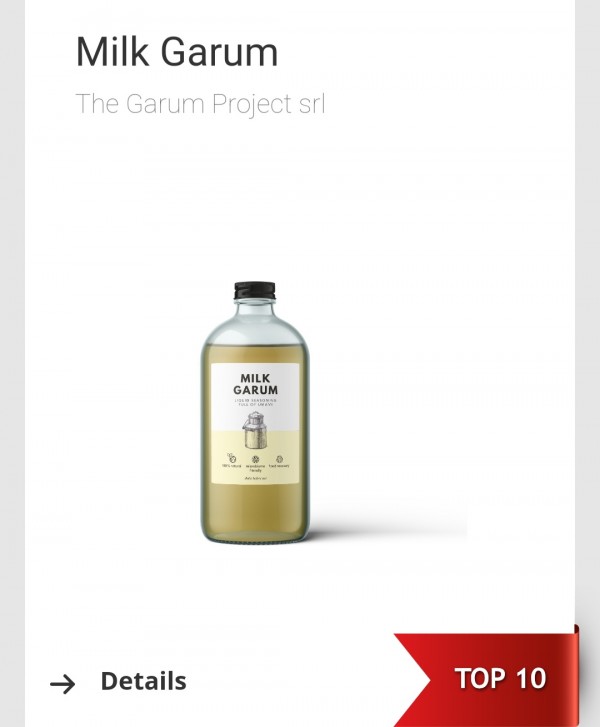 Next up, we have some fruit juices that evoke the Amazon rainforest.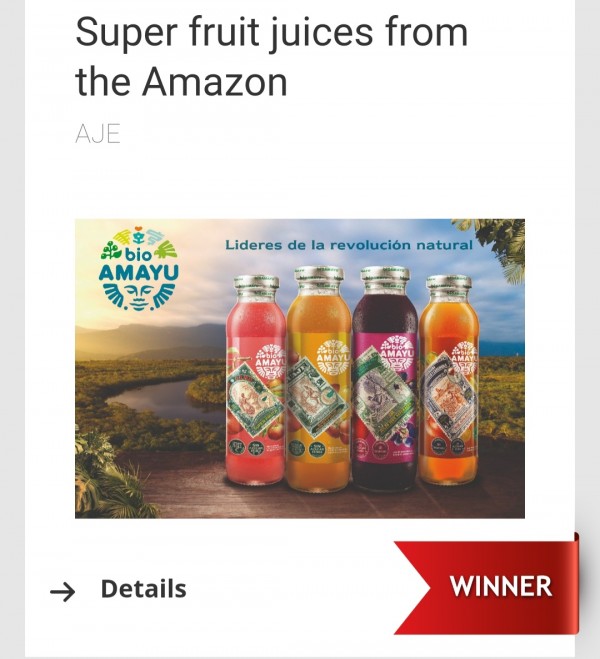 The producer tells: "MAYU'S super fruit juices from the Amazon are good for your health, good for the amazonian communities and good for the enviroment. 100% natural, no sugar added, no preservatives and very nutritive and functional." Among others, aguaje, cocona, and Camu camu are three exotic fruits that are very little known and not easy to find in Europe. They are part of the ingredients in these blends. They certainly make for an interesting base, both in nature and for next summer, with your favorite gin or rum.
There are also traditional dried mushrooms with intriguing blends: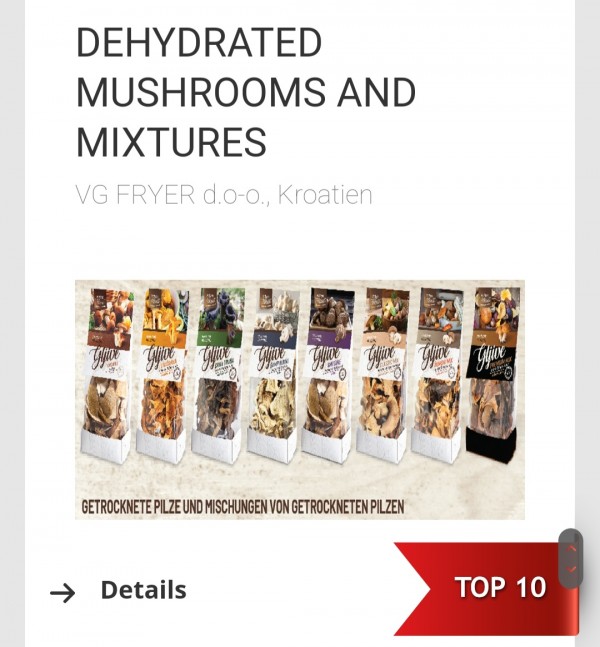 History tells us that in ancient Asian cultures, particularly in China and Japan, mushrooms held a dual significance - they were not only cherished as a valuable source of nutrition but also revered as potent remedies with a rich historical legacy. Mushrooms such as Ganoderma lucidum, known as "Reishi," Cordyceps sinensis, and Shiitake (Lentinula edodes, actively cultivated in Italy today) have a history dating back thousands of years, during which they were utilized for their perceived medicinal attributes. These cultures prepared decoctions and infusions from these mushrooms, firmly believing in their ability to enhance longevity, boost energy levels, and fortify the immune system.
It is interesting that in this choice of the jury we recognize the trend of rediscovering tradition. Dried mushrooms in various mixes ready to be hydrated and used? Yes willingly.
And from Korea, a fermented pea sauce as a (no) soy sauce alternative: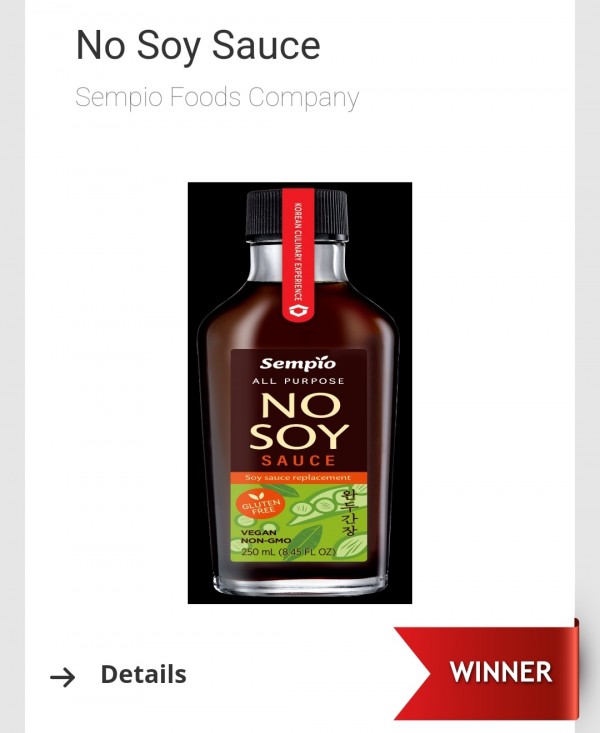 Frozen and seasoned rice ready to use for sushi. Interesting product.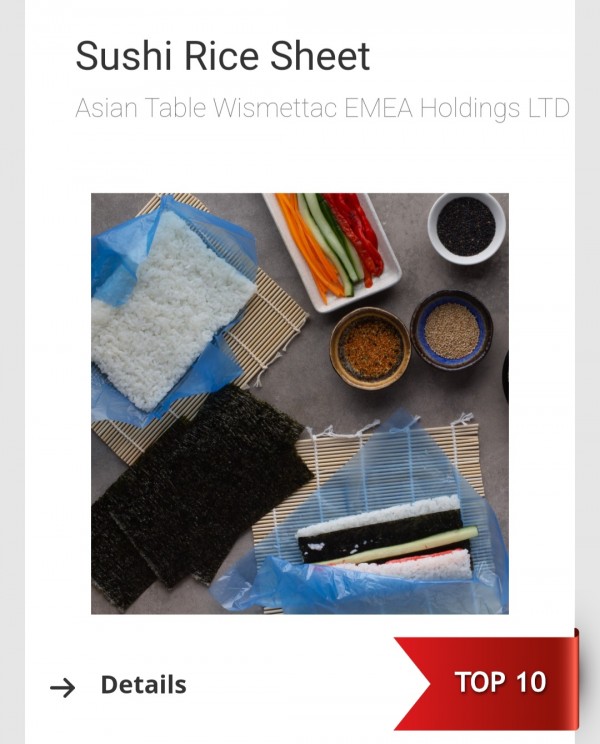 Hexacream, a delightful pistachio and flower pollen treat: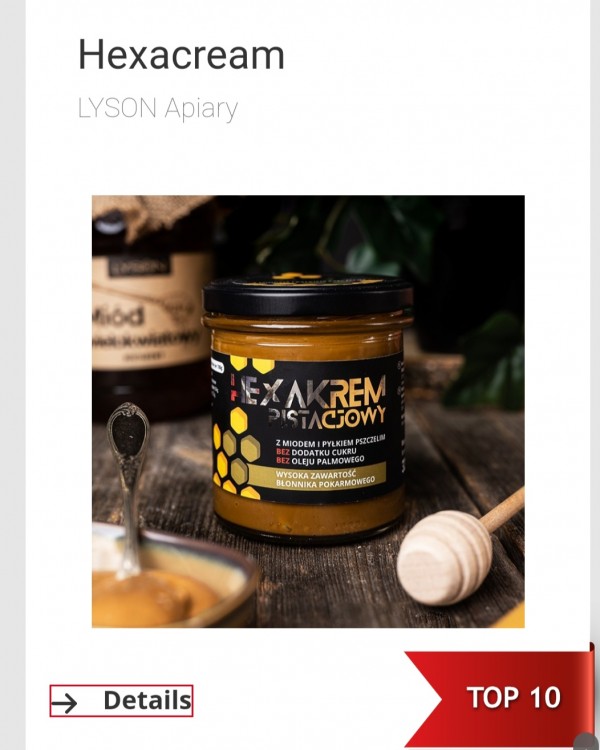 Inalpi, an emerging Italian company, has produced a protein-rich cheese slice for athletes (>25%):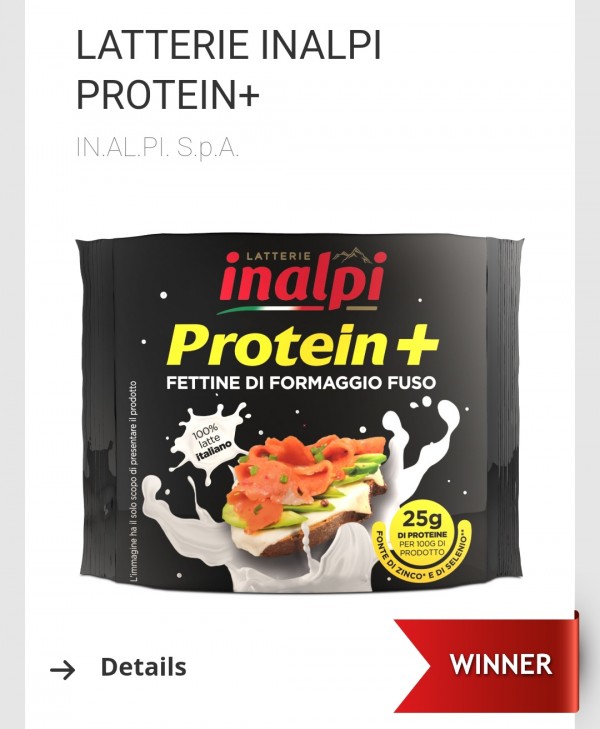 And also many other truly interesting products like these avocado snackballs or a product made from honey and spices to use for making your own mulled wine for Christmas!!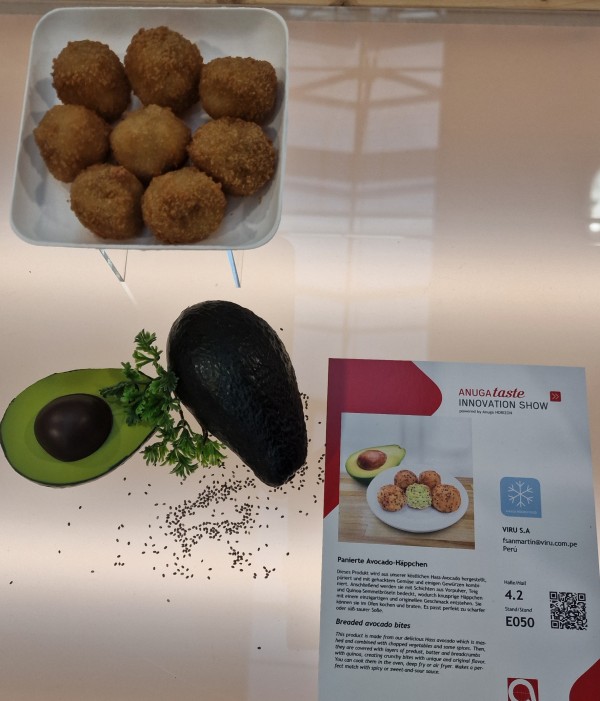 .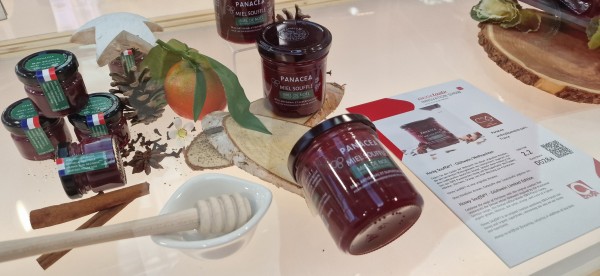 "No, it can't be true! I don't believe it."
And here we are again with the "substitutes for" products based on "something that is not quite clear what's inside." I understand the trend of substitution exists, but it's neither new nor noteworthy. I can't believe there are still juries that award this type of product. The trend has passed, it's declining, and it no longer captures the attention of the discerning consumer who reads labels.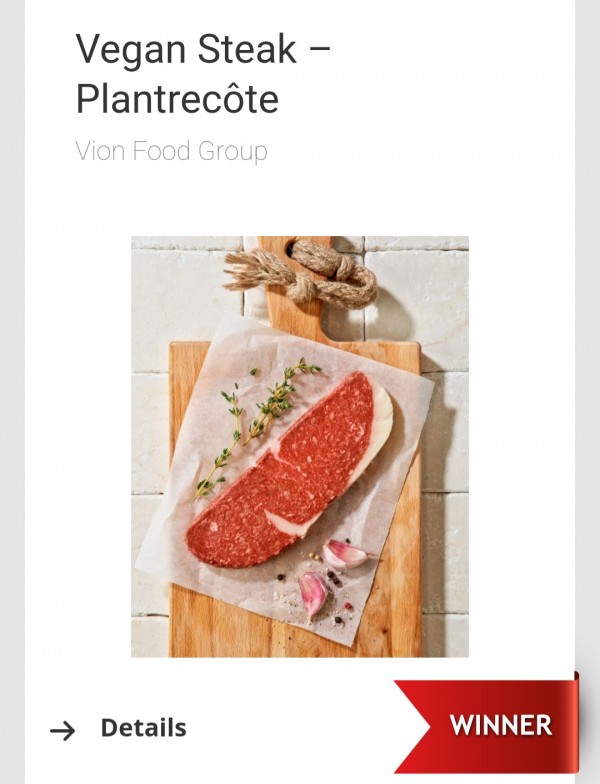 Vion produced for this jury the best non-meat steak in terms of appearance, surpassing Van Loon here below, both Dutch companies. About taste I don't know. Personally I will never eat this products.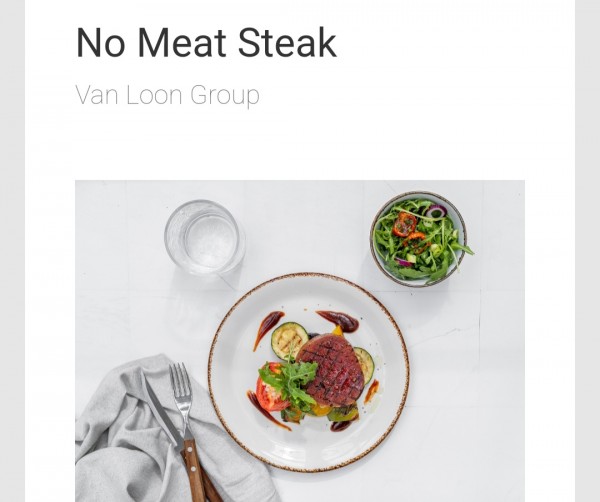 Fortunately, Beyond's smashburger did not receive any awards, despite their hopes. Let's hope stocks don't fall further on Wall Street.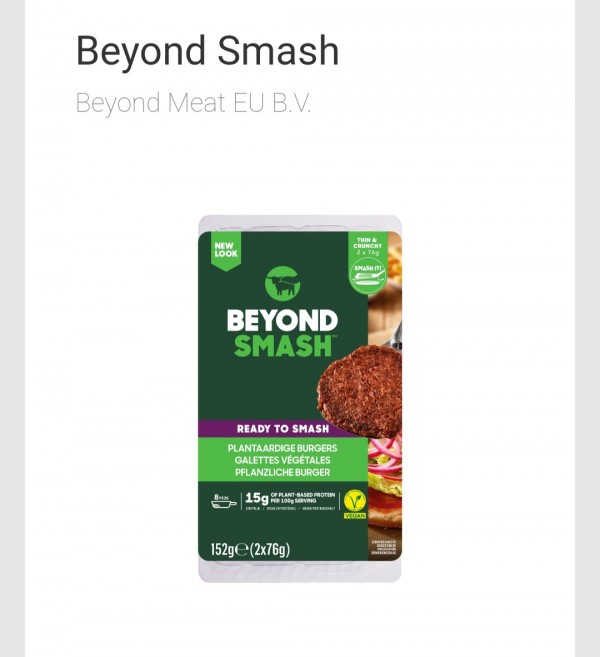 And here is the inevitable veggie substitute for tuna ... I could not believe my eyes.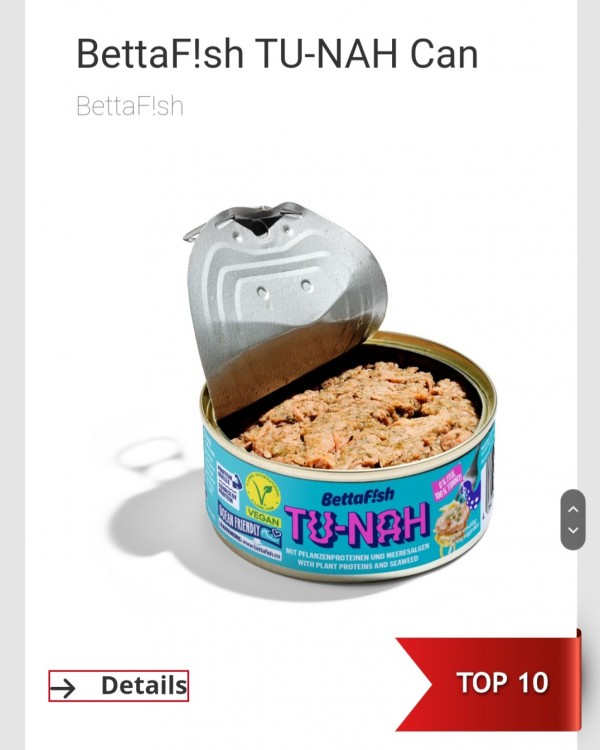 .
Certainly, the trends reveal the evolving preferences of consumers, and this can be seen in the choices made by the jury.
While some of these trends are embraced more enthusiastically than others, there's an undeniable sense of optimism in the air.
In today's world, when consumers add a product to their shopping carts, they are not just purchasing sustenance; they are investing in the gift of convenience and precious leisure time. The modern consumer craves food that is not only genuinely wholesome but also reminiscent of homemade dishes, all without the need for extensive hours in the kitchen.
This desire has led to a surge in ready-to-eat and ready-to-cook products, characterized by concise ingredient lists, a lack of additives, affordability, and user-friendly preparation. These preferences have been substantiated by surveys conducted among the vibrant 25-35 age group, reflecting the changing dynamics of modern families, where individual culinary autonomy is cherished.
It's heartening to witness that, although consumers may occasionally make spontaneous additions to their shopping carts, there's a deeper consideration beneath the surface. The products they select have already passed the rigorous initial screening test. Modern consumers are discerning label readers, investigating ingredients with care. Beyond this, they delve into the environmental, social, ethical, and moral impact of the producing company.
When these thoughtful consumers find products that align with the promises expressed on the packaging ("...please buy me because I'm delicious!"), a new loyal customer is born. This customer often becomes a passionate advocate or influencer within their social circles, spreading the word about their discoveries and contributing to a more informed and conscientious shopping experience.
To conclude, let's take a moment to appreciate the enduring allure of pavilions 5 and 6, where the undisputed stars continue to captivate professionals like myself with their innovative offerings and boundless potential.
Below are my professionally preferred stands: Van Drie with its Dutch veal continues to delight us and attract the most attention in the pavilion. Then, a close-up of Veronique Blaudet at her Bigard-Socopa-Charal stand. Veronique is the export director for the fresh meats of the SOCOPA brand. And last but not least, the Casa Vercelli stand that has hosted me and will host me in the coming days.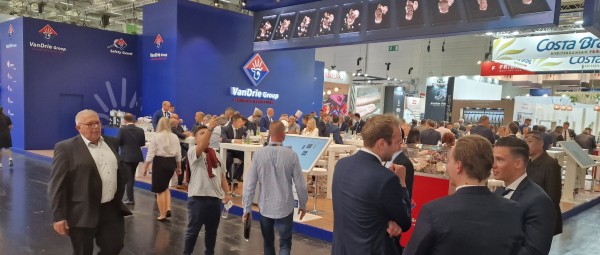 .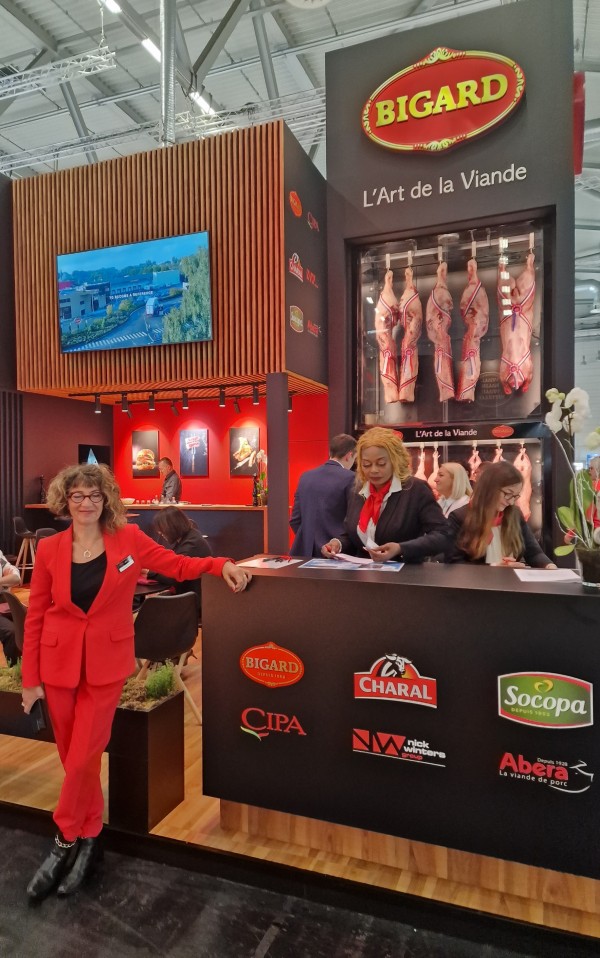 .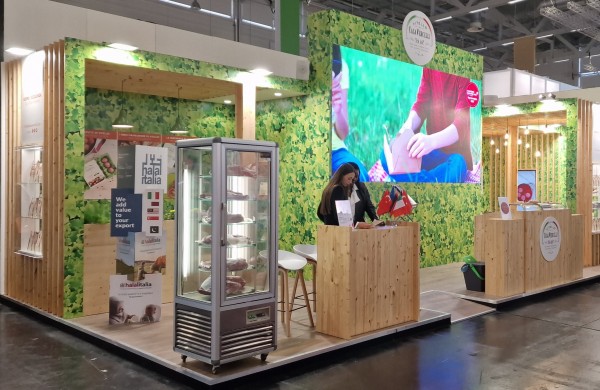 I want to conclude this report with a stand that impressed me, the one by Aureli, which stood out for its comprehensive selection of clean label vegetable beverages. Their sense of color is beautiful, reflecting a joyfulness and a way of life in harmony with nature.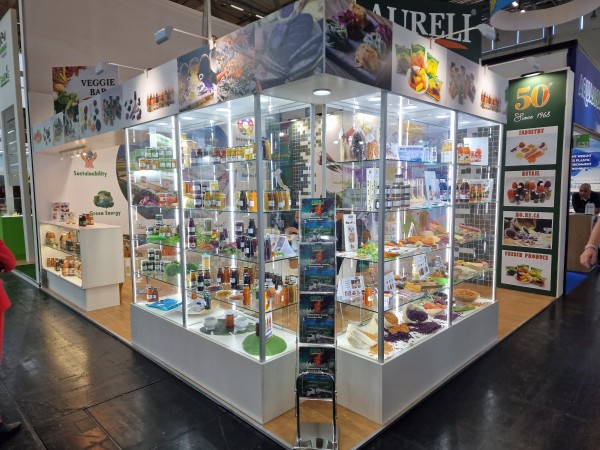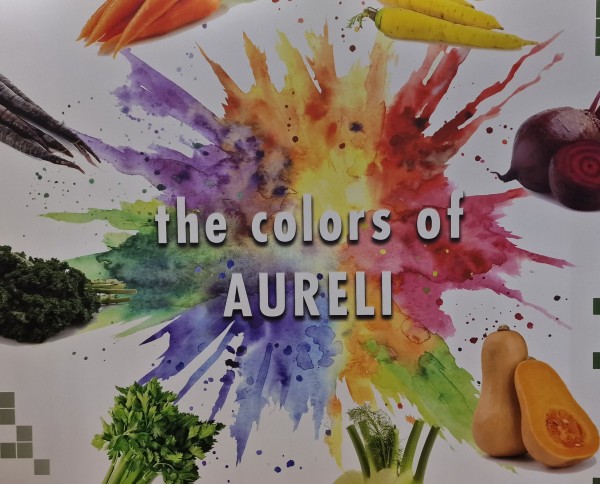 Gerelateerde blogs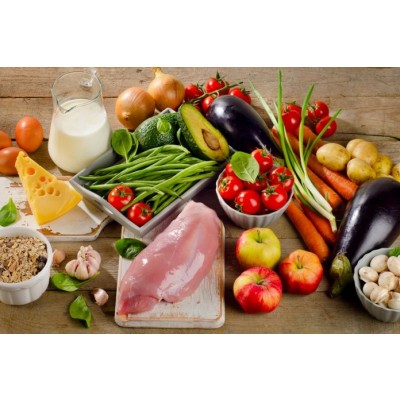 Meat content a lot of vitamins. Mostly is the source of the very important B group vitamins. Vitamins A C D are not only content in fruit and vegetables but also in meat, dairy products or fish.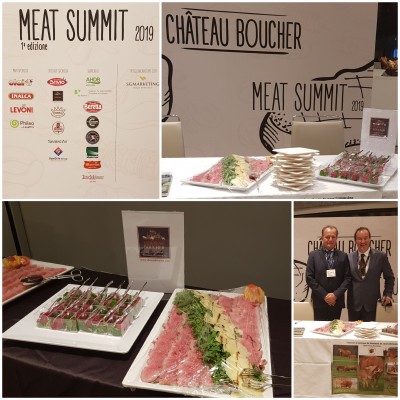 Enzo Sisto 19 oktober 2019
  Milan October 16th 2019 The first edition of the Meat Summit is a chance to know everything happens in the meat world.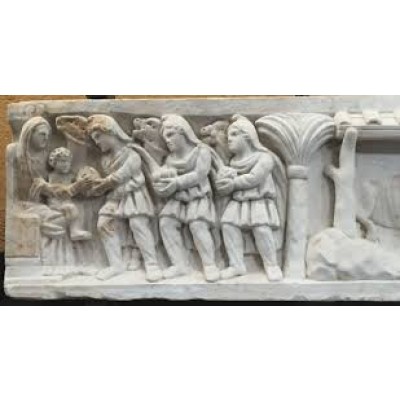 Enzo Sisto 6 januari 2020
Tradition is today to give. A gift is important to people when really helps something. A gift is love.